In this new day of food and meal convenience (pre-packaged sliced oranges, anyone?), I admit that I finally fell victim to the siren song of the "ingredients, recipes, meals delivered to your door" craze.  A Groupon pulled me in, as they are prone to do.  I thought "Hey!  I'm a food blogger!  My readers might want to know about my experience with one of these services!"  After all, being a food blogger means that I'm always thinking about how to make various food trends or cravings "my own", and how to tweak recipes that I already know by heart.  I'm not sure if you should be happy for, or pity my husband.  But sometimes I want it all decided for me but still have a "home cooked meal".  No stress, just tasty goodness.
Well, it didn't go exactly how I originally planned.
There are so darned many of these programs now that take the guess work out of dinner planning.  The main draw of these programs is that if you are a busy family but still want restaurant-quality, healthy meals at the end of a crazed day, these recipes are for you.  They send a box complete with every last ingredient you will need to make pre-selected meals for 2 or 4 (your choice).  And when I say every last ingredient, I mean right down to the number of scallions you will chop to stir into the recipe.  That takes the guess work out of the usual "I'm tossing something together but now I don't have 3 of the 7 ingredients needed".  It's all done for you.  Perfect, right?
Me and my Groupon code logged in to my particular vendor (in this case, Blue Apron) and ordered our meals for the following week.  It was super easy. While you don't get a choice of every recipe ever created, it let's you specify if you have dietary restrictions, whether you will be making the meals for a family or just for 2 (that's us), and provides a decent variety.  With my order placed, I prepared my meal plans for the following week knowing that at least 3 meals were taken care of.  I'd have the ease of just opening a box and cooking whatever was in front of me on those nights.  Relief!
So the next week my big ole' box of ingredients and recipes arrived at the door.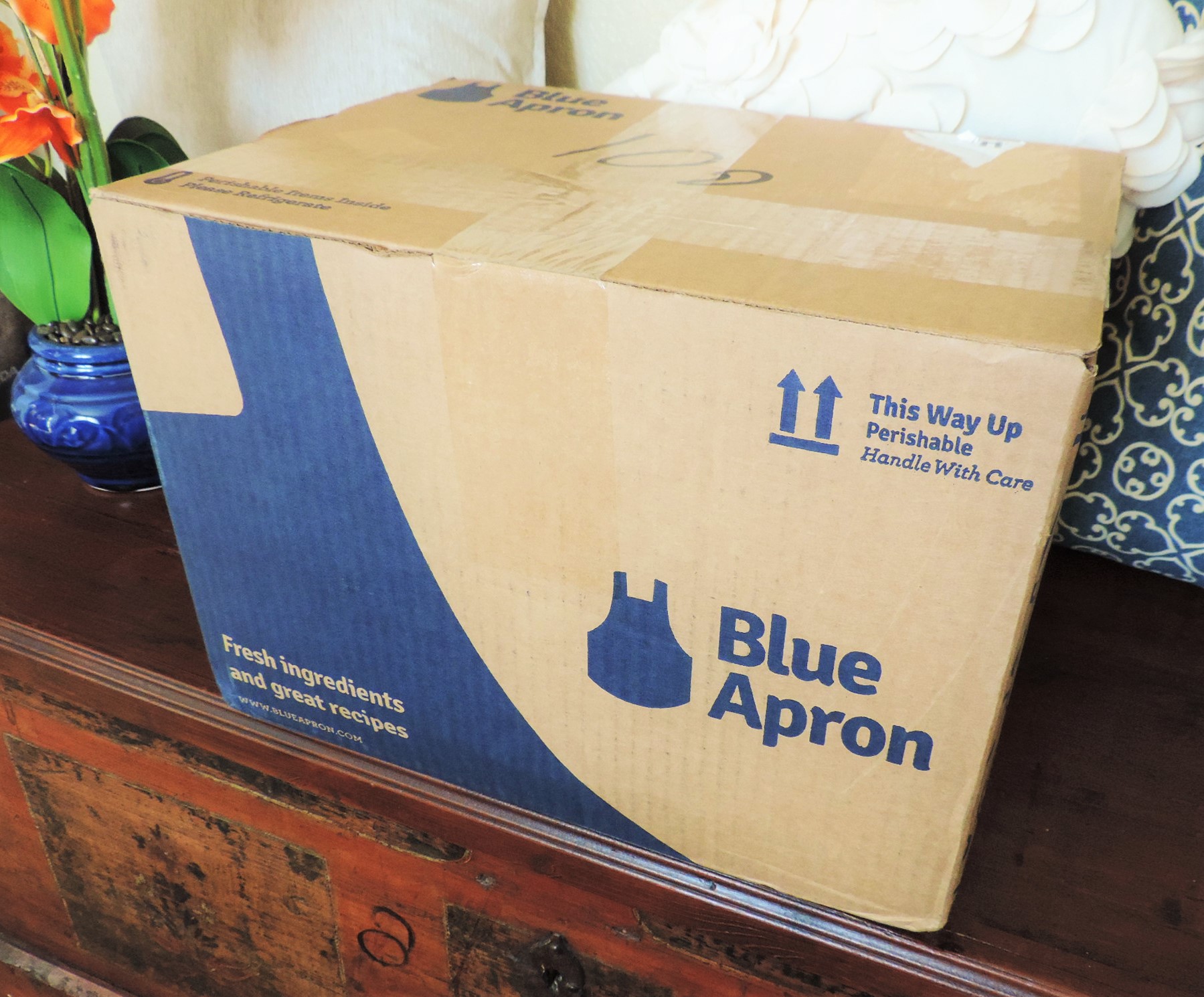 Ta-da!  Dinner for most of the week is already prepped for me!  The only choice I have to make now is which of the 3 delicious options to start with.  No stress!  No shopping!  No measuring!  Hooray!
Um, wait.  Sadly, my excitement died when my first day turned into an unexpected and unplanned day of drama.  But that's what these meals are for, right?  The days when you just can't muster another original idea or think about what dinner might include.  I mean, look at how easy this was going to be.  Close my eyes, pick one, and I was set, right?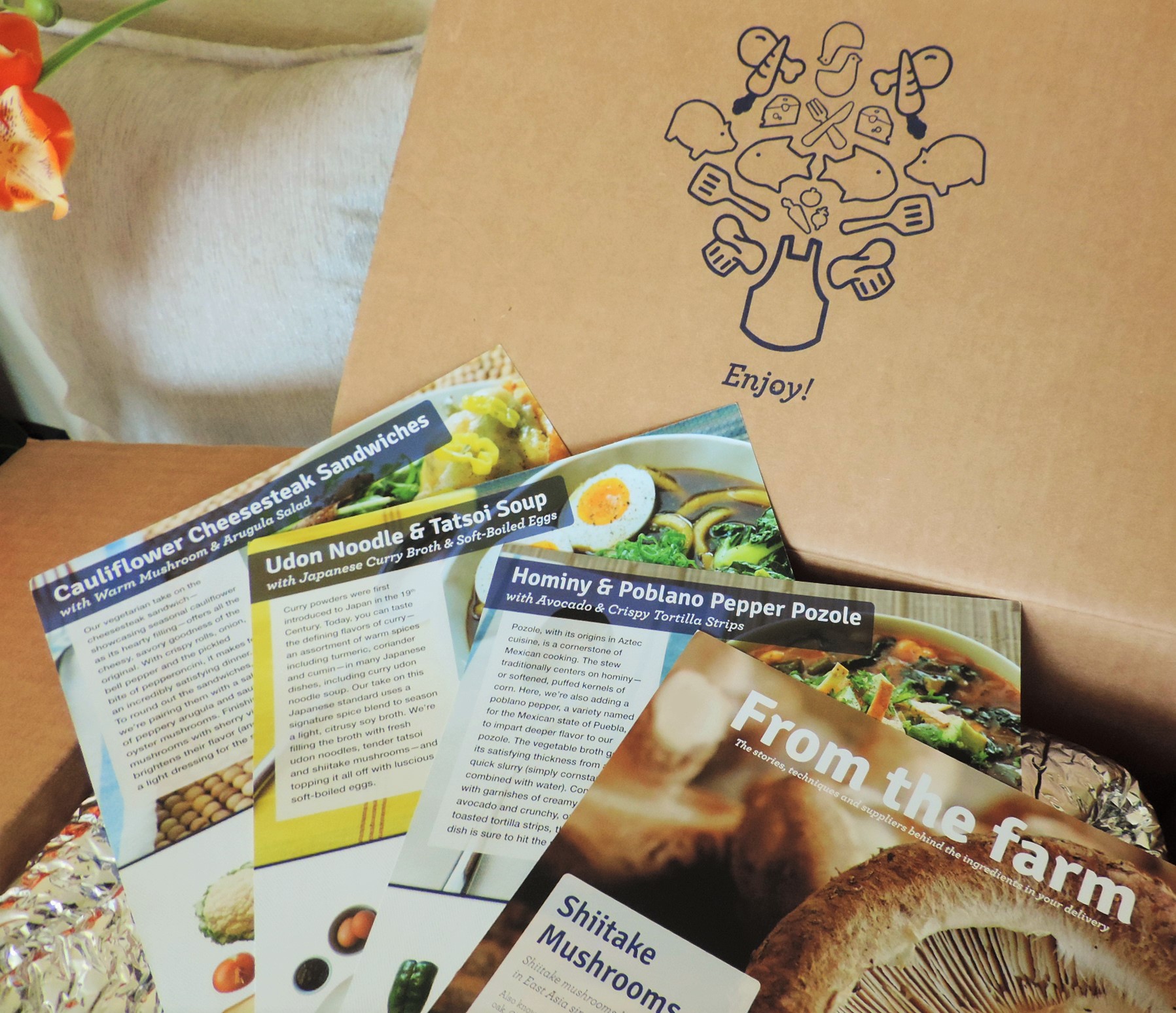 And then it happened.
I succumbed to a wave of laziness usually reserved for teenagers on Spring Break, toddlers who decide to take a nap at the grocery store, or in this case, a military spouse who'd suddenly lost her will to cook.  Anything.  At all.  Including something as easy as "open this package, put it in this pan, cook it with the other pre-measured and prepared ingredients, and just eat it".  Nope.  Couldn't even do that.  My husband got home and I looked him and said "I know we have meals ready for us, and I know you worked late and are hungry, but could you order a pizza?"
I'll make the first one tomorrow.  It will still be convenient and ready for me.  Pass me another piece of pizza.
Save
Add to Favourites