In yesterday's paper, I found a great cartoon that showed the "Magazine Recipe Flowchart".  It's basically the life cycle of a great recipe that you find in a magazine, in a newspaper (you remember those, right?), or in someone else's recipe stash. You know you've done it countless times. You find the perfect recipe for that picky eater in your family, or your in-laws who are coming for dinner, or for that grand dinner party that you always think you're going to host, and then when it comes time to use it you a) can't find the darned thing, and/or b) give up and make an old stand-by.
Well, in my husband's continued unpacking of random boxes that still inhabit our house, he found another stash of my old cooking magazines. And in the front cover of one of them was a stack of ripped out pages from other random publications. I was so excited—these were some great recipes that I remember trying (albeit a couple years ago) and loving! But now I have to figure out how to store and organize them all. Oh well. The things we do for a good recipe.
Of course, in these days of Pinterest, daily cooking newsletters, food blogs, and other electronic means of grabbing any recipe at a moment's notice, the good ole' days of flipping through a well-loved and dog-eared magazine are fading away. I am keeping with the times and have switched my magazine subscriptions to the electronic versions, but I am still known to snap a picture of a recipe I find in an old issue of Family Circle or Ladies' Home Journal or Highlights or the National Enquirer (well, maybe not from there) that I come across in the doctor's office or other waiting room. Whatever the source, I will always love the recipes I stumble upon in the various forms of now-disappearing print media. And this one is no different.
In November's Bon Appetit, I came across a fantastic and easy recipe for Posole, which is a delicious Spanish soup. And what do you know? I was able to use not only leftover turkey, but also some of the rich, yummy turkey stock I made after Thanksgiving. It was a great way to repurpose leftovers without it feeling like we were eating Thanksgiving dinner for the ump-teenth time. I strayed just a bit from the original recipe (what's new?), but my version was scrumptious regardless of the detour. Golden, glistening broth with meaty, hearty goodness served up in a bowl was a perfect warm up at the end of a long holiday weekend. It was yet one more thing to be thankful for!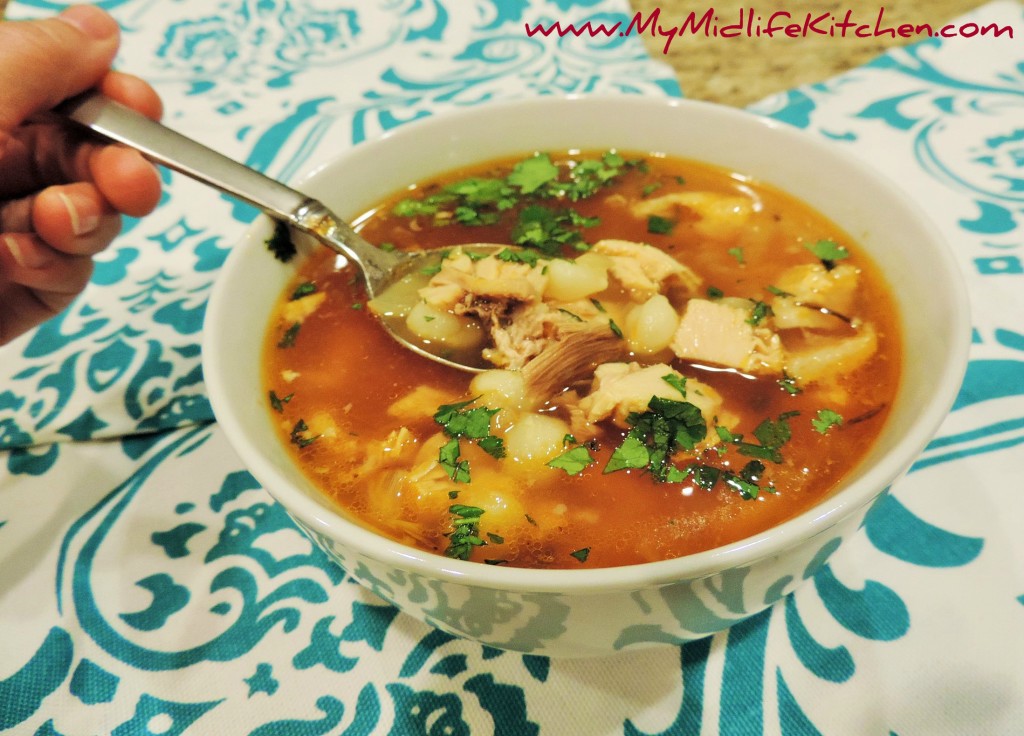 Turkey Posole
I have a dear friend who is from Spain. She is an amazing cook, and an even more amazing person (I know, I'm sucking up). She recently posted a picture on Facebook of her version of posole, and I knew immediately that I had to add the dish to my "turkey leftovers weekend". (In fact, she also has a pretty fabulous blog if you're interested!)
When I saw this particular version in my monthly edition of Bon Appetit, I knew exactly what I was going to be up to this weekend. I love that you can play with these easy ingredients and still come up with a soup that warms the tummy, AND helps use up those turkey leftovers. Of course, during the course of the year I'd just use a rotisserie chicken or other leftover roasted bird of some sort. Easy, peasy, and DE-lish!
Ingredients:
Chile Paste–
½ tsp. red pepper flakes
2 tbsp. tomato paste
1 c. turkey stock
Soup—
2 tbsp. olive oil
1 medium onion, finely chopped
1 garlic clove, finely chopped
2 cans white hominy, drained and rinsed
8 c. turkey stock, or low-sodium chicken broth
2 c. shredded cooked turkey meat
Salt & pepper to taste
Garnishes—
Cilantro, chopped
Avocado, sliced
Lime wedges
Tortilla chips, crumbled
To make the chile paste, whisk together the first three ingredients. Set aside.
In a large soup pot, heat olive oil over medium high heat. Saute onions and garlic until translucent, about 5 minutes.
Simmer soup for 40 minutes to an hour to ensure all of the flavors meld into a golden pot of tasty goodness.
Add to Favourites