I like to have fun as much as the next person. And like the next person, "fun" can mean lots of things. For me, fun is spending time with my family and friends, watching football (Go Bucks!), and of course, cooking for a big group. I love menu planning for an afternoon of watching big, burly men throwing around a pigskin (go ahead, insert obvious jokes here).
In our house, that is usually accompanied by a large piece of smoked meat. That means that while I revel in the overall menu planning and preparation, there is also something in it for my husband, who can stand outside, drink beer, and "monitor" the smoker all day before the games begin. For me, I love the "no rules" approach to a football party menu, meaning the more food, the merrier. I particularly love when my hard work and planning pays off with a win for my team, happy people, and empty dishes. Score!
(RANT ALERT!  Here is where I rant a bit about some of the more "interesting" parts of being a military spouse.  Don't want to hear it?  Scroll down to the yummy recipe.)
However, there are those times when the fun doesn't get to be on my terms. As in just about any industry, in the military there are those events where the significant other will come home with an announcement that the boss is hosting a "thing", and while it's not mandatory…well, not showing up certainly does nothing for the work relationship with said boss. For those of us attached to the military as I am, this type of outing is often referred to as "mandatory fun". Many times, these events wind up being awkward, uncomfortable gatherings where you had better have your "we've got to leave quickly" story at the ready. Think of it as having a planned escape word that only you and your better half know, but that can be worked into conversation easily. It's your safety word. You know you can escape at a moment's notice if the word is uttered by either of you. (This reminds me of the 90's show "Mad About You" with Paul Reiser and Helen Hunt. In one episode, they have a meeting that Paul is afraid they will need an escape word for, and declares that if he says either the word "paramecium" or the name "Estes Kefauver", then the other person knows it's time to end the conversation and escape. Yeah, you know those types of gatherings. Be honest—you've pulled an "Estes Kefauver" with your boss over a platter of bad buffet food.)
These "mandatory fun" events can come in many varieties. Some are formal events, and for those military balls or official receptions, only heavy drinking and a taxi service on speed dial can ensure survival. For other more casual get-togethers, the questions focus on things like "Is it at a restaurant, or someone's house? Is it catered, or is the host cooking? Or is it a potluck?"
For me, I'm game for the potluck option. For others, that may not be a bonus, but for someone like me who likes to cook, I know there will be at least one dish on the buffet table that I'll like. Extra points when you arrive to find that other people value more than overcooked hamburgers, shriveled-up hot dogs, and dry-looking vegetable platters, but actually have enough tasty choices so that you will not have to stop for a Happy Meal on the way home.
Well, last weekend we had an event of this type to attend. I admit it was a great chance to meet some new people, and there was a nice selection of tasty food. Me? I decided that if I was going to introduce myself to these new peeps, showing up with a kick-butt potluck dish could only help me out. And nothing says "Hi! Please judge me based on nothing more than what's in this portable Pyrex container" better than a bubbling slab of homemade macaroni and cheese. And if I do say so myself, this was a touchdown. Empty dish, indeed.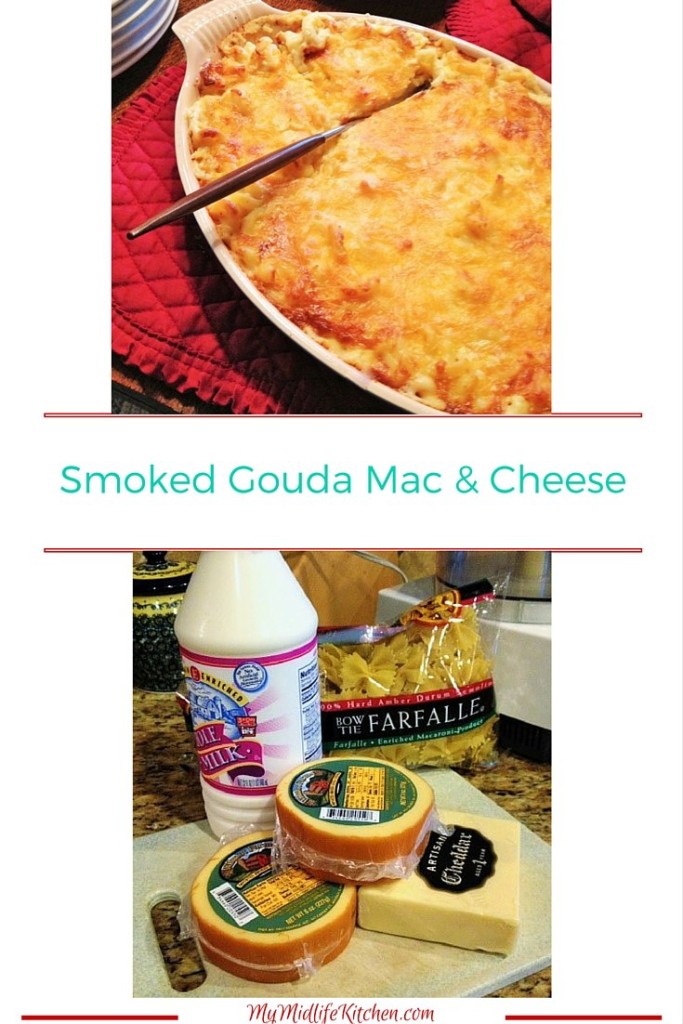 Smoked Gouda Mac & Cheese:
This recipe is a bastardized version of the Barefoot Contessa's recipe. And nothing says "bring your own defibrillator" like 6 cups of cheese, whole milk, and an entire stick of butter. The smoked Gouda adds depth that other cheeses just can't.  If I'm feeling froggy, I sometimes add bacon on top, 'cause who doesn't like bacon??  I dare you to find a crowd that won't run you over getting their own spoonful before it's devoured. I've changed the cheeses used, and some of the other extra ingredients—and I dare say mine is better than hers, if I do say so myself (hopefully she won't hunt me down for saying that!).
Serves 6-8
Kosher salt
Olive oil
1 pound pasta, any shape (Cavatappi is my favorite when I can find it)
1 quart whole milk (the whole milk is important here; the sauce won't be as creamy if you don't use whole milk)
8 tablespoons (1 stick) unsalted butter
1/2 cup all-purpose flour
12 ounces smoked Gouda cheese, grated (4 cups)
8 ounces white Cheddar, grated (2 cups)
4 ounces shredded yellow Cheddar, grated
1/2 teaspoon freshly ground black pepper
1/2 teaspoon nutmeg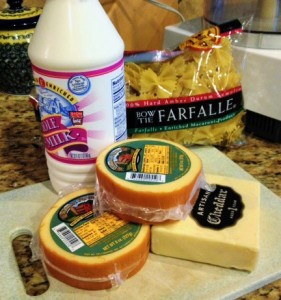 Preheat the oven to 375 degrees.
Drizzle olive oil into a large pot of boiling salted water. Add the macaroni and cook according to the directions on the package. Drain well. Stir with a small amount of olive oil to avoid clumping.
3. Heat the milk in a large saucepan, but don't let it boil. Once the milk is warmed, add the butter and stir until it melts completely.
4. Once the butter has melted, slowly add the flour and whisk until the milk mixture thickens and has no clumps.
5. Shred the cheese either with a hand grater, or if you have a food processor, use the shredding disc to make short order of the shredding time.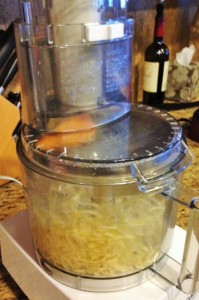 6. Take the milk mixture off the heat; add the Gouda, Cheddar, 1 tablespoon salt, pepper, and nutmeg. Stir until the cheese melts and the mixture is smooth.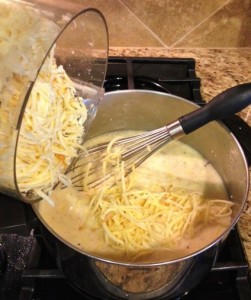 7. Add the cooked macaroni and stir well. Pour into an oiled baking dish.  Top with remaining yellow cheddar. (Tip: to avoid possible messes if the mixture boils over a bit, place the dish on a baking sheet for quick clean up)
8. Bake for 30 to 35 minutes, or until the sauce is bubbly and the macaroni is browns a bit on the top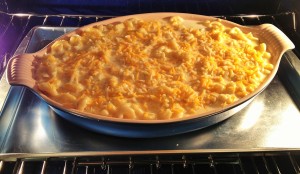 9. Set it out and let the masses have at it, and take home an empty dish.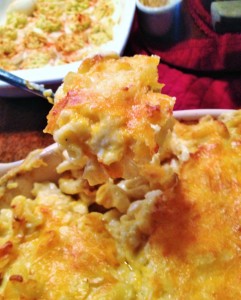 (Freezing tip: this, like other pasta casseroles, freezes well. To reheat, defrost in the refrigerator all day or overnight, then reheat slowly, adding extra milk to revive the creaminess of the dish).
Add to Favourites