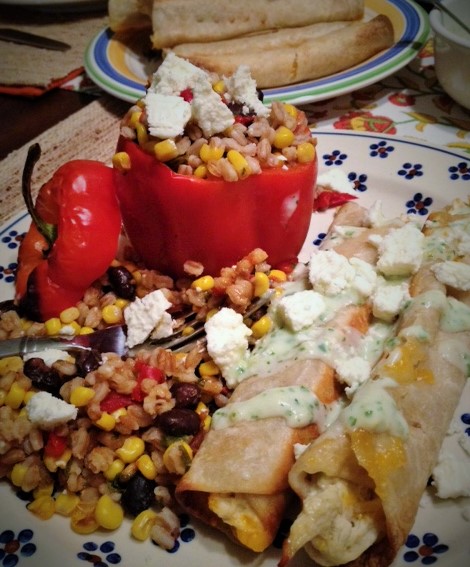 Chi-Chi's. Taco Cabana. Chipotle. We've been lied to here in America about what constitutes truly good Mexican or Tex-Mex food. What? You think they're the same? Not so fast, my friend. And even Mexican food isn't always "Mexican".  Huh??
For the uninitiated, here in Texas especially, it's easy to get confused. (If you want a little more guidance on why your Taco Bell burrito bowl doesn't qualify in these categories, go on over to this short explanation from the kitchn.  And for variations on Mexican cuisine, a short explanation here from Mexico Adventure.)  Either way, it's easy to agree that no matter your preference, it's all goooooodddd.
When you find a great place that serves up authentic Mexican food, it's hard to beat (homemade salsa and tortillas and cabrito—oh my!). But when it's bad, it's really, really bad. It'll make you reach for a tequila shot to actually put a better taste in your mouth. For instance, when we were living overseas, I can remember meeting some friends at a "Mexican" restaurant. I put that word in quotes because the food there should not have been allowed to be called "Mexican food". Ever order salsa and wish it were a little chunkier? A little spicier? A little, "salsa-ier"? Well, picture if you will a bowl set down in front of you with ketchup and some diced tomatoes. That's it. No spices. No peppers. No onions. No lime juice. No resemblance whatsoever to what any self-respecting person would consider salsa. Where's that shot of tequila??
This being now the third  time we've lived in Texas (because once, and twice, weren't enough apparently), one thing I have to say is that when we are living elsewhere, the craving for truly traditional South-of-the-border food can be tough to satisfy. Nothing quite quells the craving like a great hole-in-the-wall joint that has the real thing, beckoning you inside with the aromas of TRUE Mexican food. Handmade tortillas will spoil you forever and make you wonder how you ever considered those store bought, stale taco shells as a viable choice for "Mexican" food. If I'm having a craving for it, I'm more likely to wind up at a place that used to be a gas station, a Laundromat, or a convenience store. Ironically, I once found an authentic Mexican joint in a former Taco Bell (c'mon, that's funny). The best Mexican food is likely to be made by a little Abuela (grandmother) in a tiny kitchen. We were spoiled our first time living in here (yeah, it's like whiplash—the military just keeps bringing us back) when one of those gas-station-turned-restaurants was only 2 blocks from our house. It was dangerous, man. Elastic waistbands, anyone?
Thankfully, that is one of the benefits of being back in Texas at the moment. We have many military friends that have been stationed here at various times, and all of them to a one will tell you that the number one thing they miss about Texas is access to good Mexican and/or Tex-Mex food. Recently, we were fortunate to have a friend in town on business who, when asked what she wanted me to make for dinner, she said "I need a good Mexican food fix!" Her wish being my command, I pulled out this fantastic recipe that I lifted off of Pinterest not too long ago. While you can decide for yourself if it's Mexican or Tex-Mex, in either category, it's tasty in every way. It's made even better by the super-easy and versatile tomatillo sauce. A dish that filled my friend's craving was served. And devoured. Delicioso!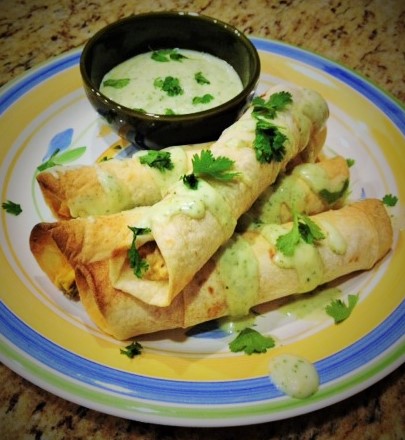 Slow Cooker Jalpeno Popper Taquitos & Stuffed Peppers
Anyone who has read any of my other posted recipes knows that I regularly use a recipe more as a guideline, and then experiment from there. This was one rare occasion that I stuck to the recipe, and DANG am I glad I did. It is worth it to take the extra step to make the dipping sauce—it really makes the dish. To make a meal out of what may normally be seen as a snack food, I added stuffed bell peppers to the meal and ding, ding, ding! Time to ring the dinner bell!  (Click on the link in the recipe title to get the specifics from my "source".)
I decided to try using the directions for frozen chicken, which I never do when cooking meat of any kind. Surprise, surprise—it worked like a charm. What a great shortcut if you're looking to get something in the slow cooker and not think about it until dinner time! For the extra tomatillo sauce you will be left with (the recipe makes more than you'll need for the taquitos), it's great as a dip, a salad dressing, or heck, grab a straw and get at it. It's that good.
As for the peppers, this is where I fell back on my tendency to stray from a recipe.  I substituted farro for regular old rice, which is generally used in most stuffed peppers. I found that the farro gave the final version a great meaty, hearty texture that rice can sometimes lack. And it's healthy, to boot! Yahoo!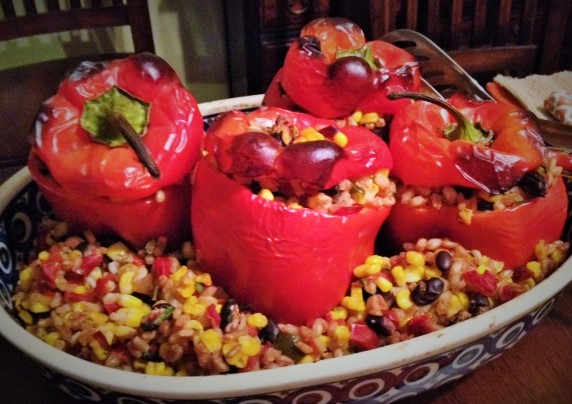 Stuffed Tex-Mex Peppers
1 cup farro, cooked per package instructions
1 can Rotel, drained
1 can low-sodium black beans, drained and rinsed
12 oz. bag frozen corn
5 medium red bell peppers, separated
½ onion, diced
½ red bell pepper, diced
1 tsp. cumin
1 tsp. white pepper
1 tbsp. fresh cilantro, chopped
1# cotija cheese, crumbled.
Preheat oven to 400 degrees. Spray 8×8 baking dish with cooking spray.
Cook farro per package instructions. Mix in Rotel, black beans and corn. Set mixture aside.
Cut top off of each bell pepper; pull out seeds and white pith from inside each one. Reserve tops of each pepper.
Dice ½ of one bell pepper; save the other ½ for another use.
Dice ½ of one medium yellow onion.
Saute diced bell pepper and onion in medium saute pan until soft and lightly browned.
Mix peppers and onion into farro mixture. Add cumin, white pepper and cilantro; mix until incorporated.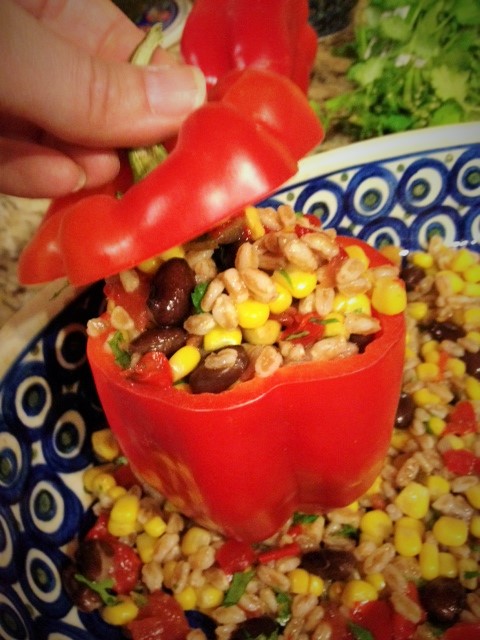 8. Stuff peppers with farro mixture; be sure to fill to about an inch over the top of the pepper. Place top of pepper on stuffed pepper to keep mixture in place during cooking.
9. Place each stuffed pepper into baking dish. Use extra farro mixture underneath each pepper to keep them from tipping over. If there is extra faro stuffing (which there is sure to be), surround the peppers in the dish with the excess.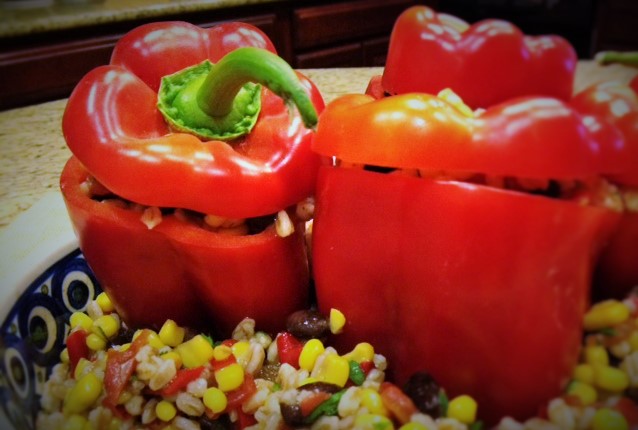 10. Bake peppers for 30-40 minutes until peppers begin to pucker a bit and brown on top.
11. Serve with sprinkling of cotija cheese for an additional melty goodness.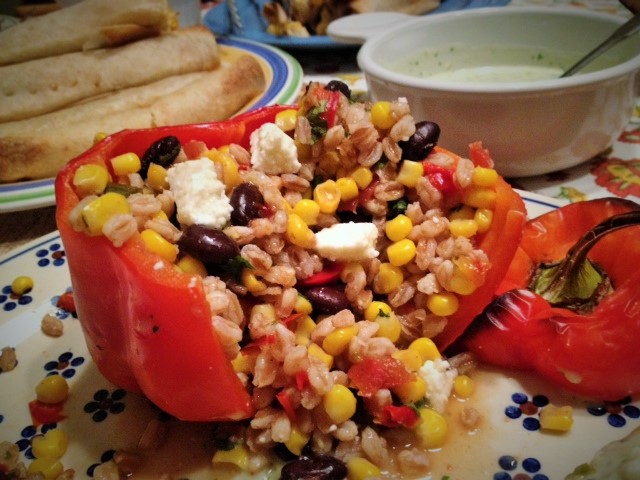 Add to Favourites