You never forget your first time. It's a momentous occasion, marking your move into another phase of life. It's enticing, exciting, but also fraught with nervousness, anxiety, and sometimes even regret. You worry about how your partner will react. The butterflies in your stomach. The sweaty palms. The dry chicken.
What? You're not talking about making your first chicken dish? Get your mind out of the gutter. I'm talking about my inclination to burn water for many years before I started to figure things out in the kitchen and how I turned that awful "first time" into a sure fire success every time.
Things never go right the first time. You can read recipes, look at the pretty photographs, imagine yourself as Julia Child with pearls and a perfect coif. And even then, it can all go horribly wrong. When I up and decided to learn how to cook beyond boxed mac & cheese, instant mashed potatoes, and fried bologna sandwiches (not that there is anything wrong with those things things!), I decided that picking a glossy magazine or cookbook for inspiration was the sure fire way to ensure meals that people would line up for.
Um, no. Not at first, my friend.
The first time I made chicken for my husband, it was an unmitigated disaster. Awful stuff. It was dry, and I had to nearly beat it out of him to admit it (such a Southern gentleman, that one). But over time, you start to find a groove, and conditions improve. Practice makes perfect, as they say. And "being prepared" is the motto for, like, 138 various leadership programs, right?
I started to get MY groove when I was visiting said husband in Korea. Now I realize that for many of you who are familiar with military life, saying that I "got my groove" when I was in Korea may need a carefully placed "so to speak" added to that statement. But in this case, I had begun reading Cooking Light religiously. I considered the magazine a gateway to helping me figure out how to make food that didn't send people to the emergency room (I don't know that this has actually ever happened, but one can never be sure).
As I visited my husband in the land of bulgogi, soju, kimchi and knock-off designer bags, I tried my hand in the kitchen with what I considered at the time to be some ambitious recipes. And you know what? I finally found a dish that not only wasn't so bad, but was really good. This recipe was gentle with me, and the reward was a chicken that was finally not dry, but so good that we have gone back to this old trick again and again (yes, pun intended).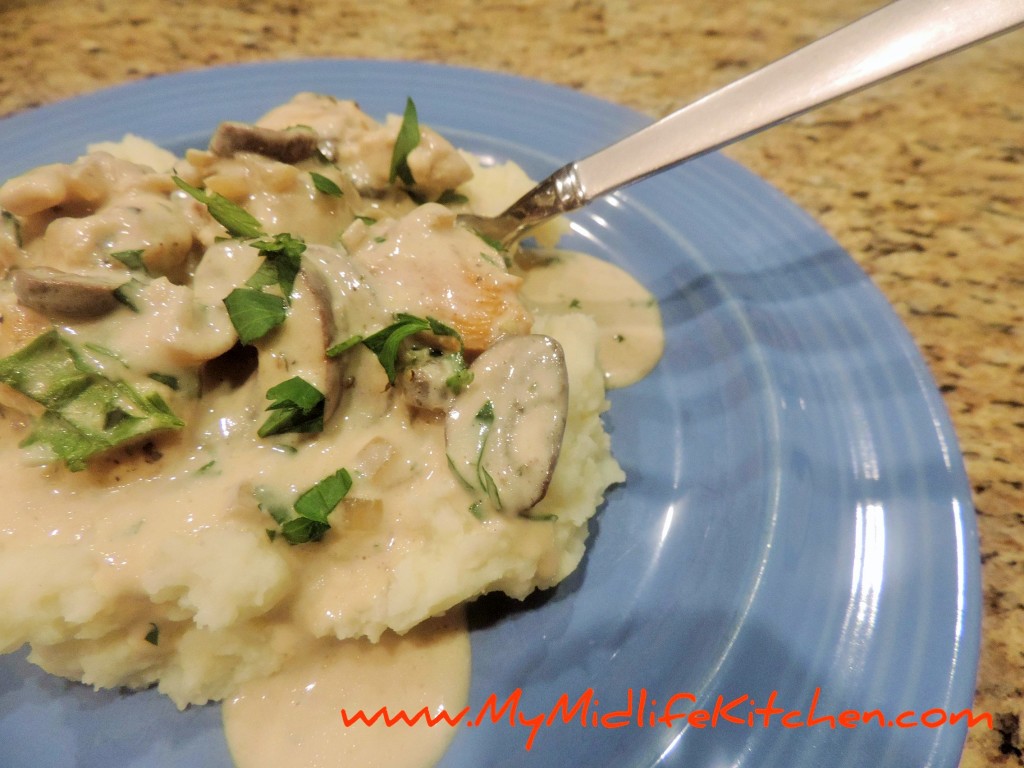 Boursin Chicken (Cooking Light, early 2001)
OK, I have a confession to make: My name is Dee Dee, and I hoard certain printed products. Specifically, cooking magazines (see picture above for a fraction of the magazines lurking in my house). I've worked to contain my addiction over the years, but I am sure that my husband would agree that I still have a ways to go.
Before I switched over to the electronic version of all of my favorites, I had a system by which to collect, organize, store, and yes, even go back and use recipes from years past. This is one that I had dog-eared for many, many years. But in one of my occasional purges since the addiction began in the late 90's, I somehow tossed the original copy of this gem. Thank goodness for the internet! I was able to save this little baby so that we can continue to enjoy it for many more years. While it's not exactly "healthy", I tell myself that since it's from Cooking Light, that it IS healthy and therefore can be in our "splurge" file. Herbed cheese, mushrooms, onions, chicken—so darned good that you may want to lick the plate. I promise, I won't tell anyone.
Ingredients:
• 1 lb. skinless, boneless chicken breast, cut into bite-size pieces
• 1 tsp. olive oil
• ½ c. chopped shallots
• 1-8 oz. package baby portabella mushrooms, sliced (you can use white button mushrooms, but the baby portabellas have a meatier, earthier texture and flavor)
• ½ c. dry white wine
• 1 c. fat-free milk
• 2 tsp. all-purpose flour
• 1/3 cup (3 oz.) spreadable cheese with garlic and herbs (I use Boursin, but there are several other brands that will work just fine)
• 2 tbsp. chopped fresh parsley
• 1/4 tsp. black pepper
1. Cook pasta according to package directions, omitting salt and fat.
2. While pasta cooks, heat a large non-stick skillet coated with cooking spray over medium-high heat. Add chicken; saute 4 minutes or until done. Remove chicken from pan, set aside.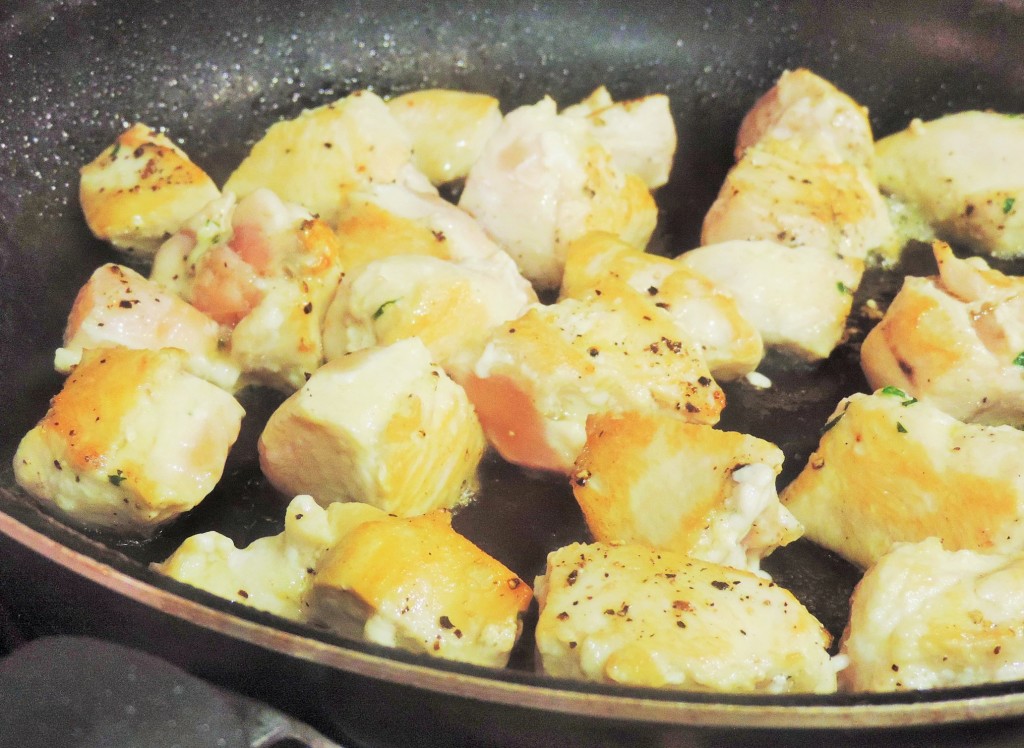 3. Heat oil in pan over medium-high heat. Add shallots; saute 1 minute. Add mushrooms; saute 4 minutes.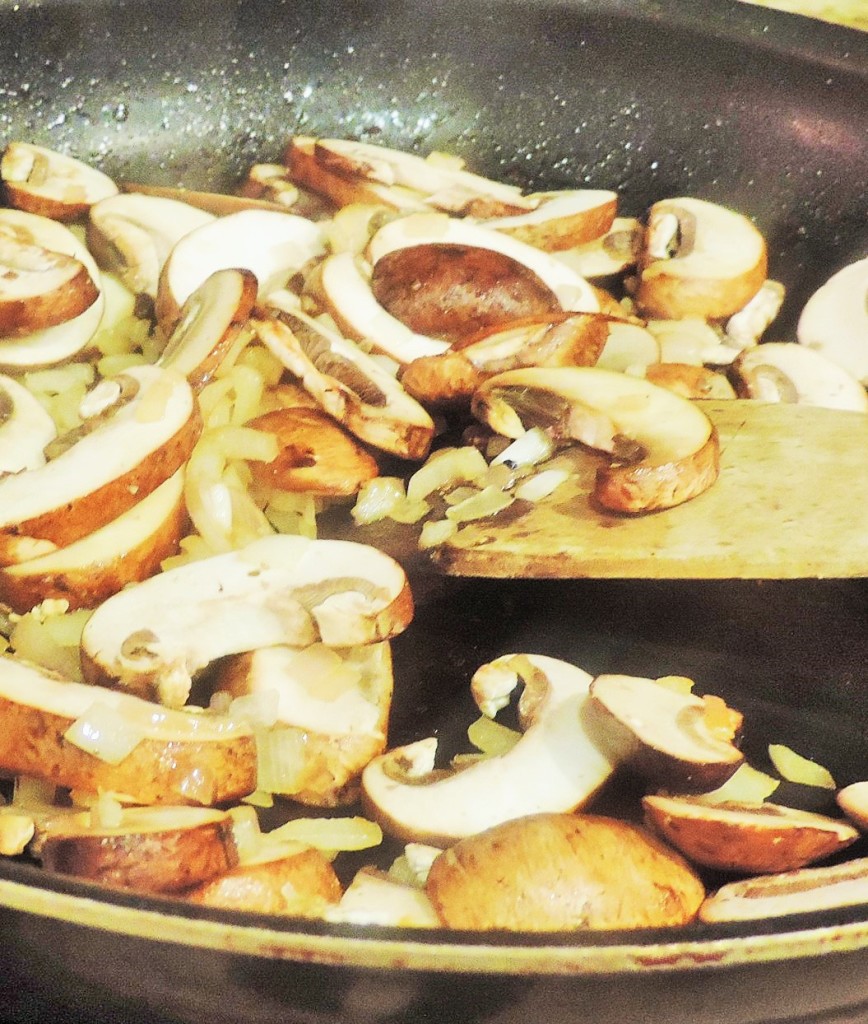 4. Add wine, cook for 3 minutes or until liquid almost evaporates.
5. Combine milk and flour in a small bowl, and stir well with a whisk. Add milk mixture to pan; cook 3 minutes or until slightly thick.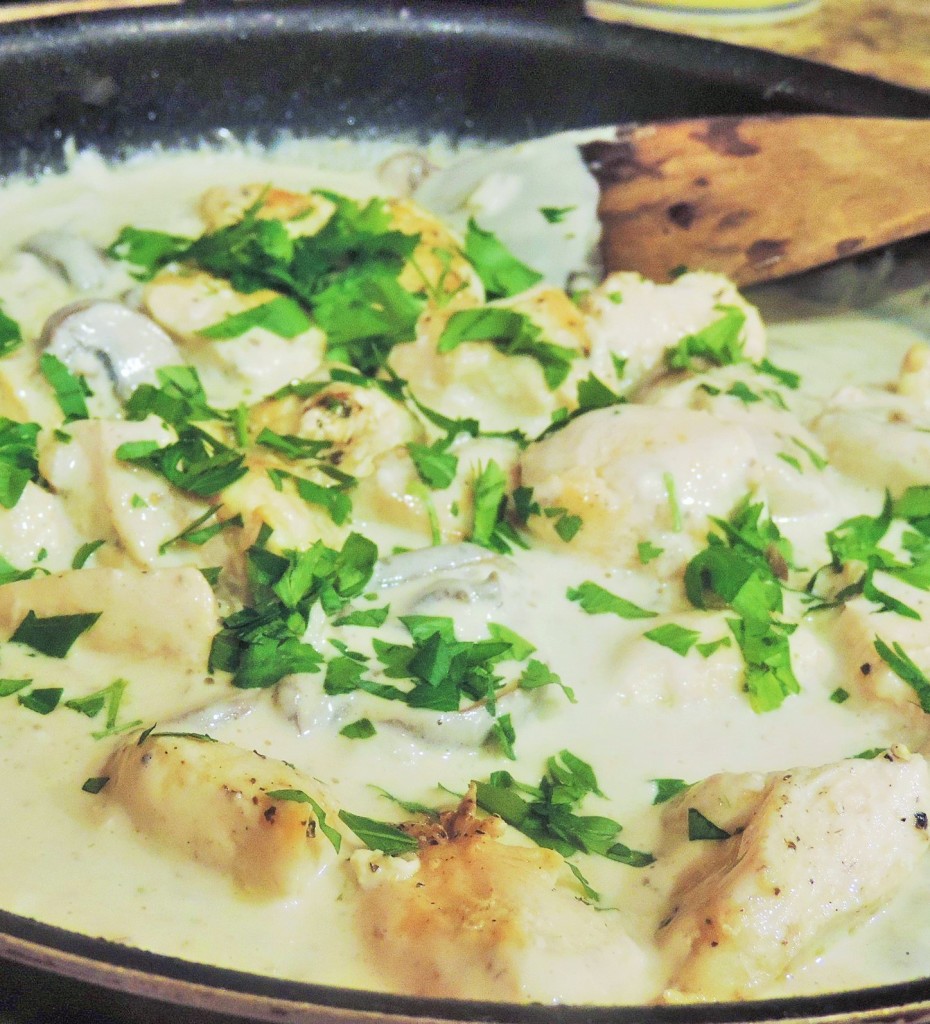 6. Add chicken, cheese, 2 tbsp. parsley, and pepper.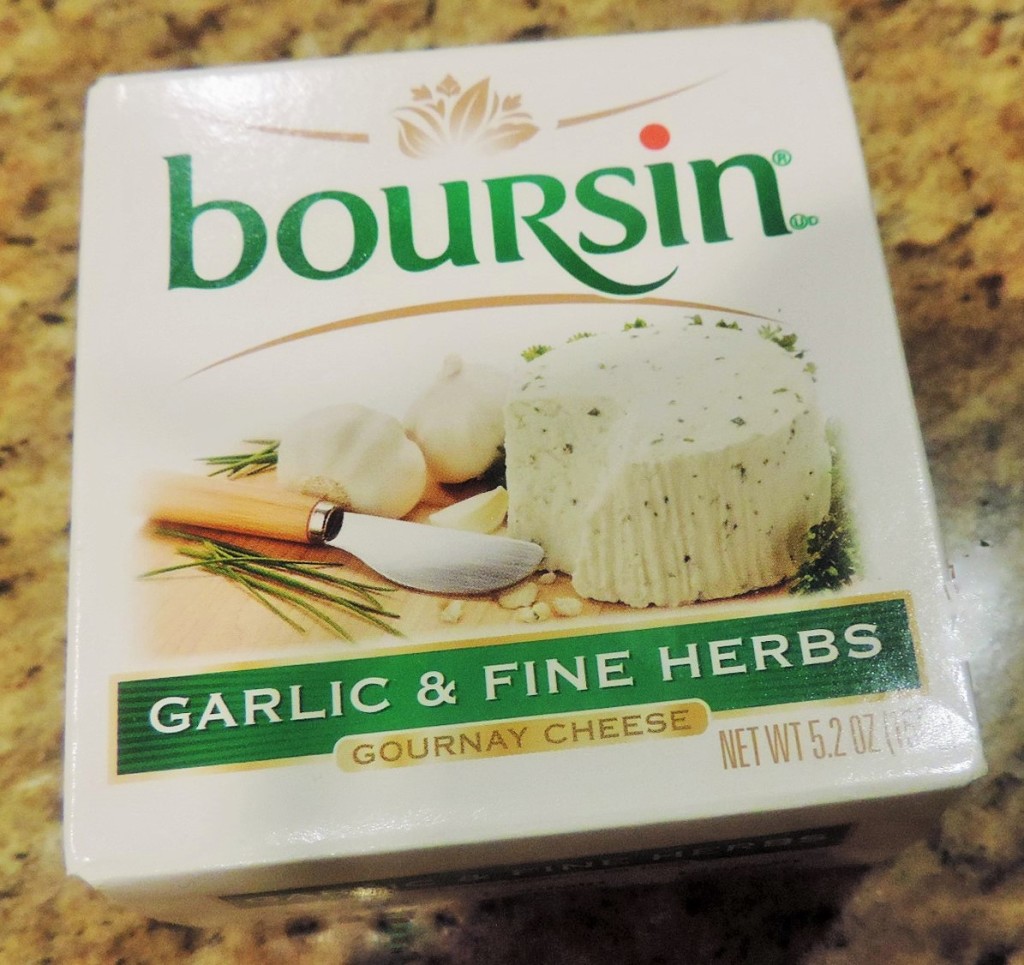 7. Reduce heat and simmer for 3 minutes or until thoroughly heated.
8. Serve over mashed potatoes or pasta. Sprinkle with additional parsley if desired.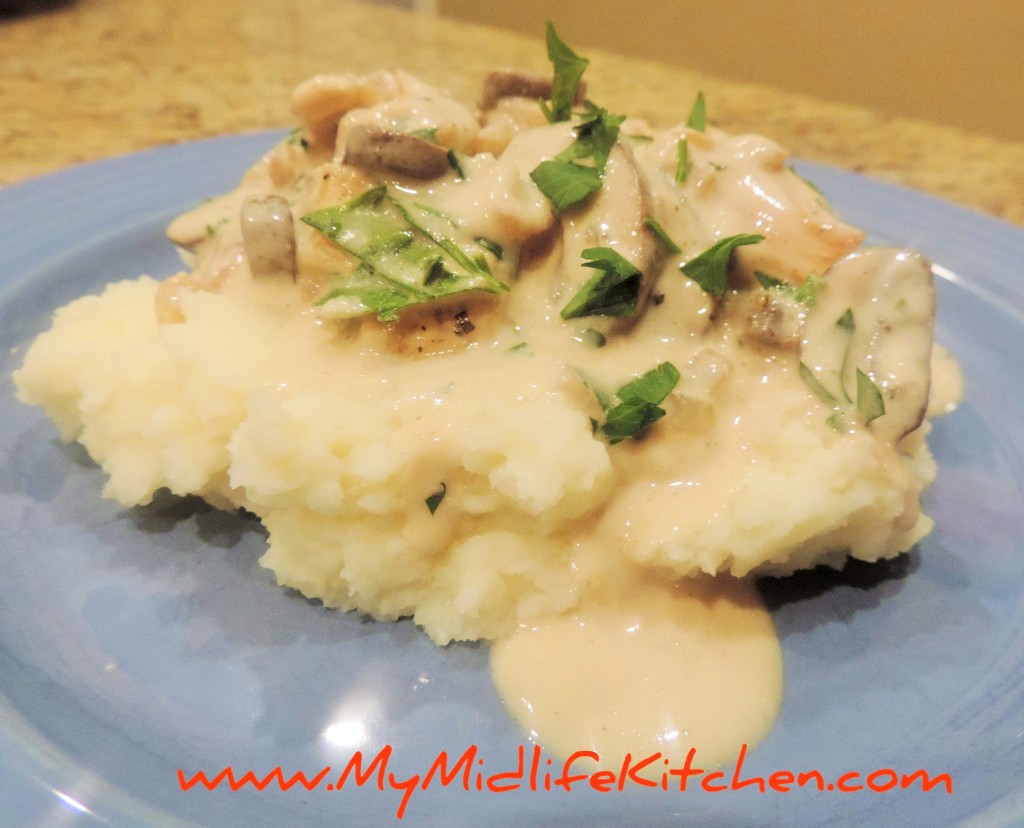 Calories 338 (18% from fat); Fat 6.9g (sat. 2.5g. mono 1.7g. poly 1.1g); Protein 37.1g; Carbohydrates 31.3g; Fiber 2.9g; Cholesterol 101mg; Iron 3.5mg; Sodium 241mg; Calcium 116mg
Note: Since this is from Cooking Light, I decided to include the nutritional information they provide for the recipe. You can decide whether the various amounts meet your current dietary needs.
Add to Favourites