**Affiliate links appear in this post. No additional cost is passed on to you, the customer. Just some fun & great stuff.**
Fall means a lot of things to many people.  It means a change in weather. A shift in mindset. And for many, it is officially "Pumpkin Spice" season.  The coffee shops, the bakeries, the grocery stores—they all scream that it's PUMPKIN SPICE EVERYTHING.
Now let me set the record straight.  I love Fall, and I love the flavors of a great pumpkin pie.  Those flavors are, after all, what we're talking about, right?  Cinnamon, cloves, allspice, cardamom—the spices of the holidays begin creeping into all things this time of year.
With that, I would like to air my grievances regarding the Pumpkin Spice craze.  I realize that what I may have to say will be considered blasphemy to many, but hear me out and THEN unfriend me if you must.
First off, it starts far too early. In August we start seeing adds for Halloween costumes, candy, and even holiday layaway shopping.  The "ready for Autumn" signs swing in the air conditioning at local stores, which is a contradiction to me right there.  Fall weather (where I come from) is AFTER the a/c has been shut off for the year.  Strike one.
The first food-related item to show up, of course, is the coffee.  People lose. Their. S#!t over this stuff.  Me? More often than not the drinks are cloyingly sweet, and make me reach for a syringe of insulin.  Holy crap, that is a lot of sweetness packed into a cup of joe.  And do you know that there is actually NO PUMPKIN in that flavored goo?  Check out this report from NPR a couple years ago for a little insight into that squirt of flavor being stalked by everyone right now.  Ugh. Strike two.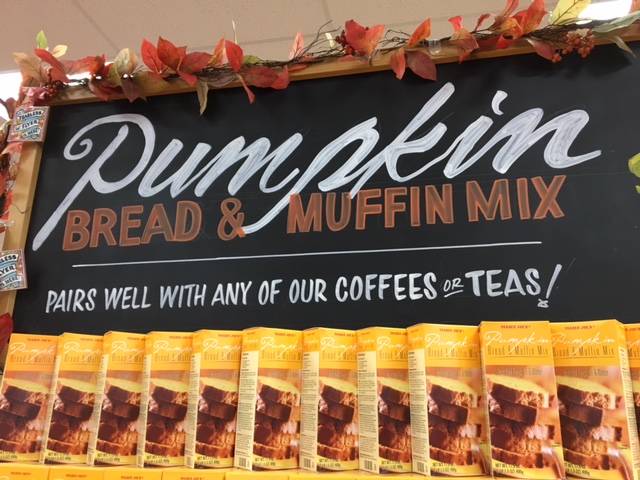 Next come the baked goods & sweets, which makes the most sense in my book.  After all, the craze comes from those aforementioned pumpkin pie spices, so why not get those flavors in donuts, cheesecake, and cookies, right?  I am on board for some of it.  A great pumpkin spiced cake with a little cream cheese frosting is just enough of a sweet bomb to get me through the day.  But Oreos? Peeps? Marshmallows? Cereal? GUM??  I think the overdose is waiting around the next grocery store end cap, my friends. That's three.
And then there are the items that realllllllyyy stretch the "I must have everything I put in my mouth taste like pumpkin spice" trend beyond realistic limits.  How about a breakfast of pumpkin spiced English muffins with a glass of pumpkin spiced milk?  Then a lunch of pumpkin spiced tacos with pumpkin spiced salsa and pumpkin spiced chips? Top it all off with a dinner of pumpkin spiced steak alongside pumpkin spiced veggies, with a frosty mug of pumpkin spiced beer?  ACK! That's four, if you're still counting.

Your pooch can get in on the action, too.  There are pumpkin spiced dog treats, as well as pumpkin spiced dog shampoos.  At least your four-legged friend won't smell like "wet dog"—he'll smell like pumpkin-spiced wet dog.  Oh yeah, that's the smell you want your house to be known for. FIVE. That's five.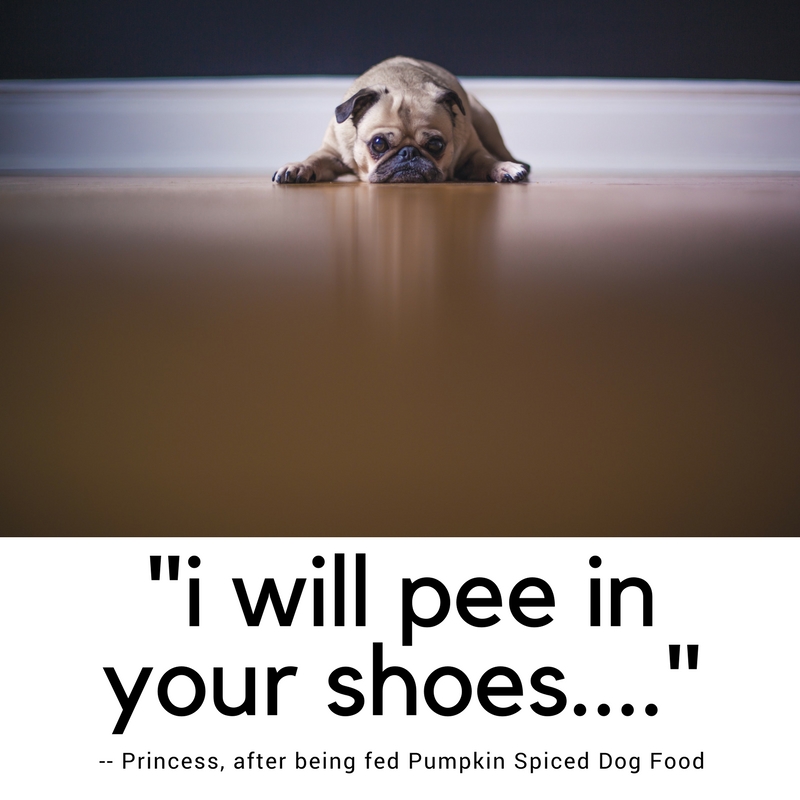 Oh, and did I forget to mention that you don't have to eat pumpkin spiced foods to get in on the craze? You, and your home, can smell like it, too!  There are pumpkin spiced lotions, perfumes, candles, air fresheners (although I don't know how fresh the air would be lingering with those strong scents), and my favorite—beard oil.  Yes, I said BEARD OIL.  What the HELL?!  If you cuddle up to your man and his face smells like dessert, and you like it, might I suggest you might need the assistance of a trained professional? (seriously, google it) And finally, STRIKE SIX (if there is such thing).

Whew.  That felt good to get it all out.  I feel as if a 50lb. pumpkin has been lifted from my shoulders.
Now if you excuse me, I'm going to go make myself some pumpkin pancakes topped with pumpkin cream cheese and pumpkin spiced chocolate chips.  And a pumpkin spiced Vente latte.
Happy Fall, Ya'll.
**OK, so I have to share how I choose to get in on the craze.  Want to embrace the craze & flavors every morning? Then you need the Pumpkin Pie Cheesecake Blend for that awesome blast of Pumpkin Spice to start your day! Love me some Wildtree, which many of you know. So I get my Pumpkin Spice Latte like this…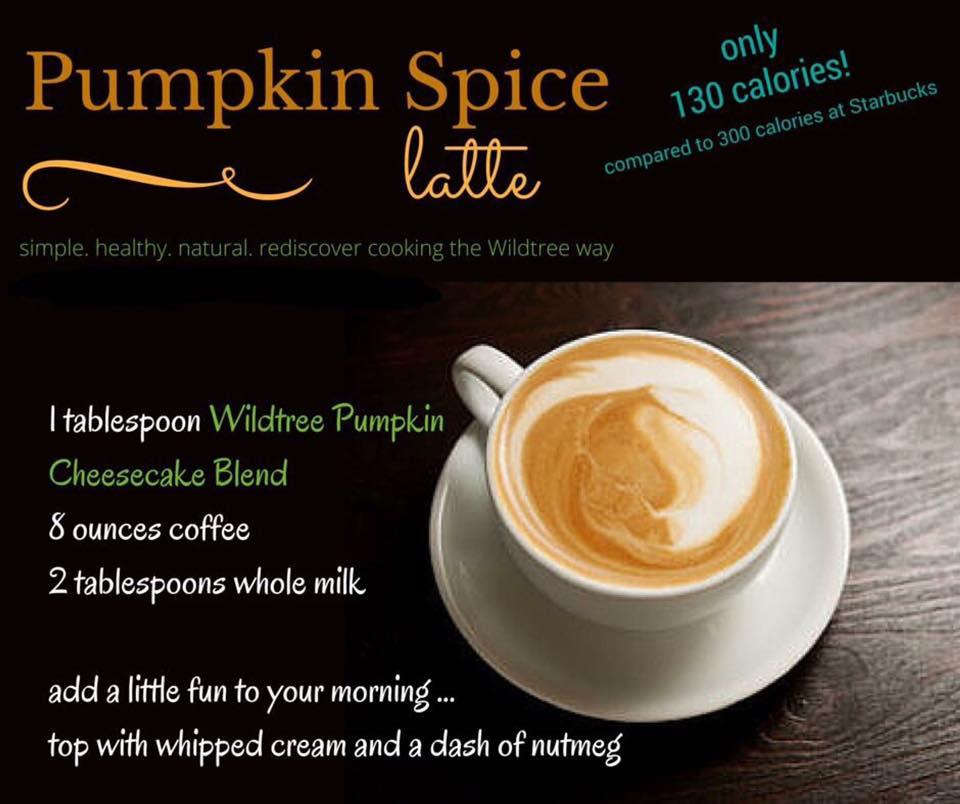 Add to Favourites