Think you don't like Brussels Sprouts? Do they bring back bad memories of childhood meals past? Time to change your thinking!  Brussels Sprouts are a trend that is worth changing your tune for, and diving into with this super simple simple & Healthy Brussels Sprouts & Couscous Salad.
**Disclosure: There are affiliate links in this post. Any commission I receive from purchases made from these links does note increase any amount paid by you, the customer.**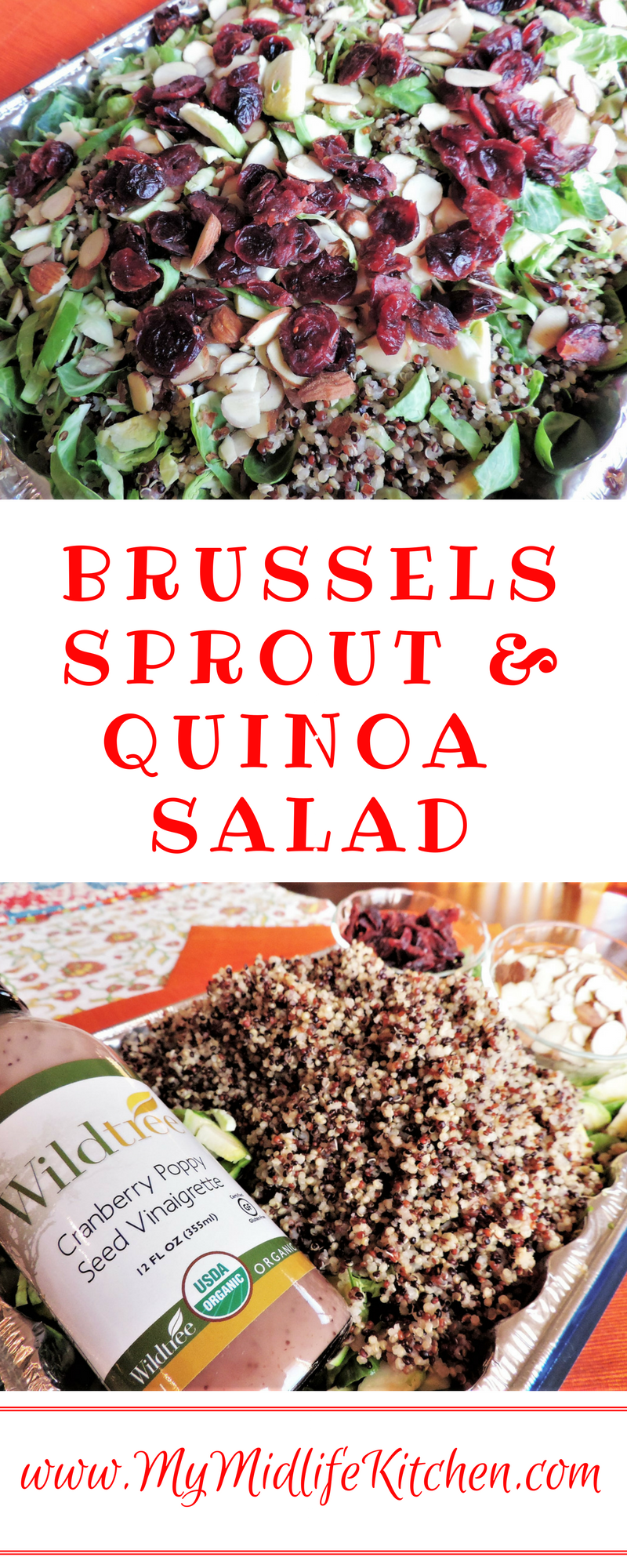 Smelly. Slimy. Stinky. Yup, those are the things you want to think about when you're deciding to eat healthier. But who can blame many of us? Growing up the mere mention of Brussels Sprouts (let alone vegetables, for me) would have sent shivers down my spine. I mean, have you ever smelled boiling Brussels Sprouts?  Yeah, you know where I'm coming from.
Now full disclosure: I never saw a sprout on our kitchen table when I was growing up.  It just wasn't something we had in rotation come meal time.  But as I've grown older (wiser??), I've got many veggies that make it to my plate regularly.  Probably not as many as I should, but I'm working on that.
Enter the often-maligned Brussels Sprout. These little heads of cabbage have been turning the nose up of kids for ages. But these days, it's hard to go to any restaurant and not see them on the menu in some fashion.  While I now love roasted Sprouts, there is a lot more to be done with them.  This Brussels Sprout Quinoa Salad is a perfect example.
Using them raw is a great way to explore ways to enjoy this popular veggie.  Shaving the raw Sprouts really lets you enjoy the more subtle flavors in this hearty green.  Because of its' shape, it holds onto other ingredients well.  It grabs the quinoa like little cups, and plays off the tart cranberries beautifully.  Like a little vessel, delivering tasty goodness to your taste buds!
While I am all about highlighting the greens in this salad, don't forget about the healthy grains with the quinoa, the crunchy almonds, and of course the tart cranberries.  However, the star of the show is the Wildtree Cranberry Poppy Seed Vinaigrette. The tart, tangy dressing coats each of the salad components, and ties it all together in a way that'll have you reaching for this vinaigrette for many other meals. 
Now, I can't take credit for this recipe, although it's so freakin' simple I can hardly call it that.  5 ingredients, not much time involved, and a flavor bomb awaits (and a nutritious one, too!).  This recipe came to me courtesy of the Wildtree Meals App (more on that at the bottom of this post). I made it for a potluck at my husband's office. So simple, and so delicious, folks will forget that potlucks are generally about loading on the carbs and cheese and desserts on the table and nothing else.
Don't you agree Brussels Sprouts can find their way onto YOUR table in this easy and pretty Brussels Sprout Quinoa Salad?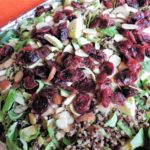 Servings

Prep Time

10

servings

20

minutes
Servings

Prep Time

10

servings

20

minutes
Slice off the ends of the Brussels Sprouts. Slice each sprout thinly (about 1/4" slices). Place them in a serving dish.

Follow the cooking instructions on the package of quinoa. Once cooked, allow to cool completely before adding to the sliced sprouts.

Add cranberries & almonds. Add Wildtree Cranberry Poppyseed Vinaigrette & toss to coat all of the ingredients.

Allow to sit 15 minutes to allow ingredients to absorb the vinaigrette. Serve and enjoy!
As promised above, here's the scoop on the Wildtree Meals App.  First of all, if you aren't familiar with Wildtree, you can check out more here.  Wildtree is a company that promotes healthy meal planning options that won't break the bank, and will fit with nearly any dietary need, restriction, like, dislike, picky eater needs, and more.  The app puts menu planning in the palm of your hand, and helps families save money by doing meal planning in a way that meets their needs. Oh, and you can order the fab Cranberry Poppyseed Vinaigrette straight from the app, too.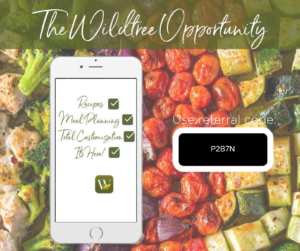 The app can be found in either the Apple App Store or the Google Play Store.  Just search for "Wildtree Meals" and download for free!  That said, yes, I work with Wildtree.  And when you either download or register for the app/page, be sure to use promo code P2B7N for an automatic $5 credit.
If you use this app/page, come back and tell me what you think.  I'd love to hear all about the super meals you are finding--and making--from this super FREE resource!
Add to Favourites