As promised above, here's the scoop on the Wildtree Meals App.  First of all, if you aren't familiar with Wildtree, you can check out more here.  Wildtree is a company that promotes healthy meal planning options that won't break the bank, and will fit with nearly any dietary need, restriction, like, dislike, picky eater needs, and more.  The app puts menu planning in the palm of your hand, and helps families save money by doing meal planning in a way that meets their needs. Oh, and you can order the fab Cranberry Poppyseed Vinaigrette straight from the app, too.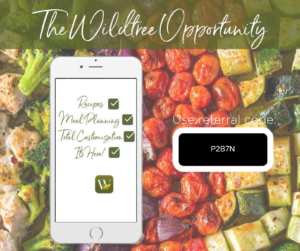 The app can be found in either the Apple App Store or the Google Play Store.  Just search for "Wildtree Meals" and download for free!  That said, yes, I work with Wildtree.  And when you either download or register for the app/page, be sure to use promo code P2B7N for an automatic $5 credit.
If you use this app/page, come back and tell me what you think.  I'd love to hear all about the super meals you are finding–and making–from this super FREE resource!