Celery may not sound like an exciting flavor for a comforting soup, but this recipe will change your mind!  Smooth, silky, and oh-so-flavorful, celery will be on your grocery list all Winter long! Warming Celery & Potato Soup is the answer to "what's for dinner" on those cold nights ahead.
**There are affiliate links in this post. Any purchases result in a commission for me, but cost you–the customer–nothing extra.**
I love, love, LOVE a good soup when the weather turns cold. Comfort in a bowl.  But you know what is even MORE comforting than a super soup like this one? Great friends.
On a recent trip back to DC (I make an annual pilgrimage each December to see friends), I had the super opportunity to catch up with some friends we have known for 15 years (ack! Has it really been that long??).  These are friends who, when we met, we knew were destined to be friends for life, no matter where we lived or how many years would pass.
When we moved to Germany, we were fortunate to meet some incredible people almost immediately upon arrival.  My husband had the great luck to work in an office that included people that actually liked each other in AND out of the office.  We all hung out constantly, and many trips, meals, and adult beverages were shared over the years.  The stories that could be told (but won't be, to protect the players!)…
But because the military likes to move us around so much, we finally had to depart for a new assignment, leaving our dear friends behind.  That meant that on those occasions when we can meet up in other cities and countries, the time spent together is so special.  On this trip to DC, I got to spend the day with those friends.  Of course, it started as an innocent brunch, and by the end of the day we'd added another friend who happened to be in town as well, and an impromptu dinner party was born.
Another thing about these particular friends–they are incredible cooks. In fact, one of our continued favorite pork dishes came from this couple years ago. The possible dishes we brainstormed were enticing, but the last-minute nature of dinner made for some needed creativity on the fly.  So we settled on a simple dinner of soup, vegetables, and wine.  I mean, that last part was a given, but still.
And just to be sure you get how simple and fabulous our additional vegetable dish was, check out this colorful accompaniment for our meal: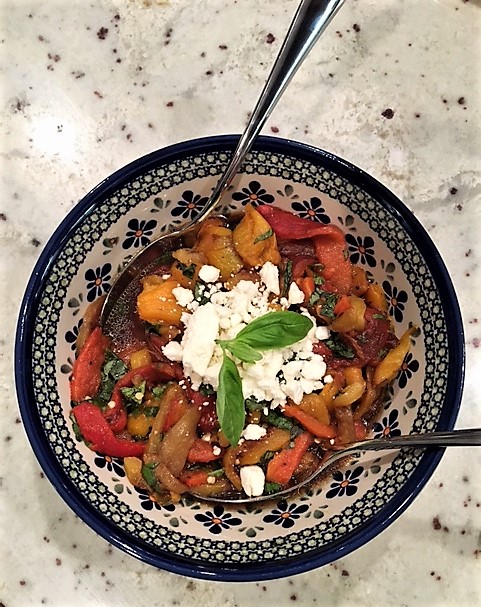 Delectable, no?
For the soup itself, I was lucky enough to stumble on a simple and beautiful soup on Epicurious. Of course, I never follow recipes EXACTLY as they are stated (where's the fun in that??), so this is my version of the inspiration I found there.
So gather 'round with friends, old or new, and dive into this big bowl of Warming Celery & Potato Soup.  The soup–and your friends–will feel like home.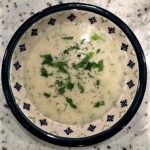 This Warming Celery & Potato Soup hugs you from the inside out. It feels like an old friend, bringing comfort & cheer on those cold Winter nights ahead.
Servings

Prep Time

4

people

20

minutes
Servings

Prep Time

4

people

20

minutes
Peel the potatoes, and chop them into 1" cubes. Wash & chop the celery. Peel & chop the onions. Dice the dill & celery leaves, and set them aside.

Melt the butter over medium heat in a large dutch oven. Saute onion, celery, garlic & potatoes until softened, about 10 minutes.

Add chicken stock, salt & pepper. Cover & cook vegetables until tender, about 30 minutes.

In small batches, add vegetable & stock mixture to a blender. Blend until smooth. Continue blending in batches until a silky consistency is reached. (see below for note on blending hot soup)

Add whipping cream & dill, and stir to combine thoroughly.

Serve immediately, topped with chopped celery leaves.
So don't want to be stuck having to transfer ladles of hot soup into & out of a blender? Then grab your handy immersion blender!  In this case, we were winging our dinner, so the blender was handy and worked like a champ.  However, when I make this at home, the immersion blender makes combining the cooked veggies into a silky soup a breeze.
Don't have one?  Well get your last-minute holiday gift requests in now!  I am a big fan of two different immersion blenders I have had over the years.  The first is the Braun Hand Blender with some handy attachments.  This was my first immersion blender, and I have used it for everything from soups to whipped cream to chopped nuts.
The other version I have and love for more sturdy blending needs is the Cuisinart Smart Stick.  It doesn't have the attachments of the Braun blender, but it can withstand heartier vegetables like parsnips, sweet potatoes and turnips.  It's a grab, blend and done tool that is a staple in my kitchen.
Which tools do you use when blending hot soups or dishes like this Warming Celery & Potato Soup?
Add to Favourites