** This is a sponsored post. My Midlife Kitchen received sample product from Ninja Coffee Bar; however, all opinions are my own. **
Ah, coffee.  How I love thee, let me count the ways.  I depend on you to wake me up, keep me moving forward in the morning, and give me that kick start needed to get my rear in gear each day.  I have sung your praises before, and I am showing no signs of breaking up with you any time soon.  I couldn't function without you.
Except for when my coffee pot decides to revolt against me.  That's just not fair.  I mean, I look forward to that morning nectar of the gods like I look forward to, well, anything awesome.  And when I hit "start" on the all-important kitchen appliance that promises to serve up a piping hot cup of caffiene-laden goodness and then I don't get what I'm looking for, well…it can get ugly.  Our last coffee pot had begun to let us down with leaking, dripping, heating element issues, and all other matter of problems that meant it just wasn't reliable any more. As if I wasn't already Ms. Cranky Pants first thing in the morning.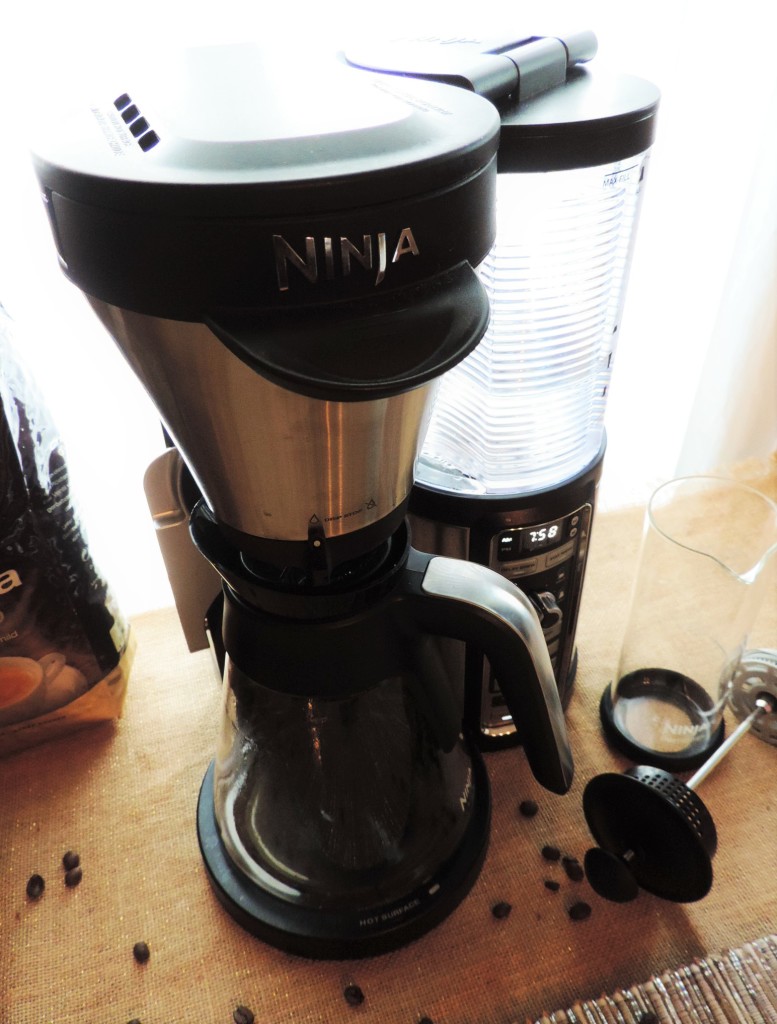 Enter the Ninja Coffee Bar.  Yes, you've probably seen the infomercials with Sofia Vergara giving her neighborhood barista the heave-ho because she can make her own coffee goodness at home.  Well, I'm here to tell you something–the Ninja Coffee Bar really IS all that and a bag of chips.
I had the pleasure of chatting with some folks from Ninja at a recent event, and tried several of the coffee treats they were offering.  After my 6th trip to the booth, I think they knew I might really like the product.  Or maybe I just needed that much of a pick-me-up.  Either way, I knew I had to give this thing a try at home.

I love me a good latte, but had never taken the time to steam my own milk, buy a frother, blah blah blah to do it myself. Ninja Coffee Bar to the rescue!  You get everything needed to really, truly make your own coffee house favorites at home.  My biggest concern was that the irony of coffee is that you NEED coffee to MAKE coffee, and I was worried that it would be too complicated to do without a pre-cup caffeine IV.  Once I gave it a try, I was hooked.
All I did was basically make a cup the way I normally would and heat my milk in the glass frother while the coffee goodness dripped out.  10-15 pumps on the heated milk and POOF!  I had perfect steamed milk and a creamy foam for my morning cup.  Oh, did I mention that I can make a full pot, half pot, travel mug sized cup, or regular cup? Awesome for when I need a quick hit as I'm running out the door.
But because I am a rebel, I decided to take it one step beyond just making an easy morning latte for myself.  I created this awesome and super simple addition to my freshly ground coffee to kick up that morning cup o' joe, Texas Style.  We have pecans all over the place down here, and of course a spicy kick to food and drink is normal, so I decided to add this flavor profile to my coffee.  And the Sweet & Spicy Texas Pecan Latte was born.
Around the holidays I started making these addicting Sweet & Spicy Pecans for snacking, gift-giving, and the like.  It hit me that the sweet and spicy flavors would be delicious in a creamy cup of coffee.  After tossing a couple of those pecans into the coffee beans it was clear that I may not be able to have any other coffee ever again.  The flavors of the nuts meld beautifully with the sharp and bitter nature of a morning coffee.  And the smoothness of the coffee brewed in the Ninja Coffee Bar made it even better.
I've fallen for coffee all over again.
** This post contains affiliate links.  I receive a commission from any purchases made through these links;
however, no additional cost is incurred by the customer. **
Add to Favourites