As of late, this transition of mine from borderline workaholic to grasping at what lies ahead in this military-led life has left me craving comfort.  Security in a new routine, a purpose to my day, a reason to take a chance on something new.  With that comes straddling a fine line of wanting to embrace anything and everything new in this altered state, yet reaching back to the security of the familiar.  That means taking comfort in the well-known; the tried-and-trues of years past are calling.
I grew up in the Midwest. In particular, I grew up in a family that figured that any life event could be eased or celebrated with a casserole. New baby in the house? Italian sausage and macaroni casserole it is. Just had surgery? Macaroni, cheese and hamburger casserole coming right up. A death in the family? Tuna noodle casserole served up for anyone at the wake. Yup, each of us kids had a favorite. To this day, my mom will, in the course of recounting the goings-on of the past week, invariably mention that she made "your sister's casserole", or "your casserole" for dinner at one point. The leftovers alone could keep the family fed for the next week. And a double batch? Well, that's the thing of freezer gold, my friends.
Over the years, some of my more popular recipes for a group have been in casserole form, especially when I'm showing up at someone's door with a container (or 7) of meals that they don't have to cook for themselves. The simpler they are, the more comforting to the person who eats it. That sense of familiar ingredients combined to warm the tummy and the soul feed people in many ways.  And what is better than comfort, especially when you're talking about food?
So here is MY casserole, fit for a crowd, or for what ails you. It may not be fancy, but it freezes great, and is tossed together in no time. Gotta love that.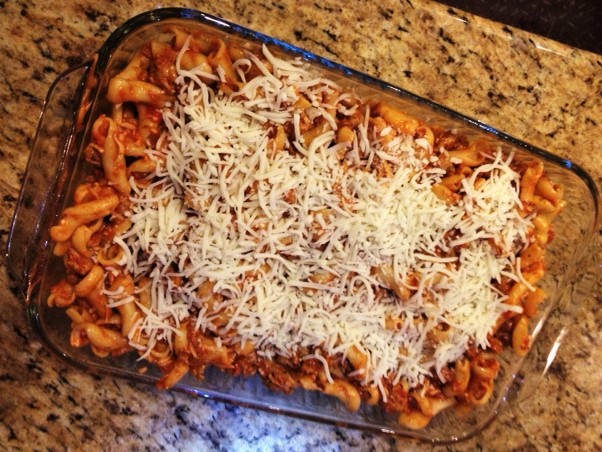 Dee Dee's Casserole (so says my mom!)
1# ground Italian sausage
1# short pasta (i.e. penne, macaroni, bowties)
1-24oz. jar pasta sauce of your choice (we're a Prego family, but whatever floats your boat)
8 oz. shredded mozzarella cheese (whole milk, not skim or part-skim, as it doesn't melt as well)
1. Preheat the oven to 375°F.
2. Boil 8 cups of water in a large pot. Once the water boils, add a tablespoon of salt (this can be approximate) and a drizzle of olive oil.
3. Add the pasta and cook until al dente (a fancy way of saying it's still firm, but cooked through); drain and set aside.
4. Brown Italian sausage in large, nonstick skillet. Once the meat is browned, drain off any fat.
5. Mix the pasta and the sausage, along with the jar of pasta sauce, and half of the cheese, in the same pot you made the pasta in. After all, why dirty another pot?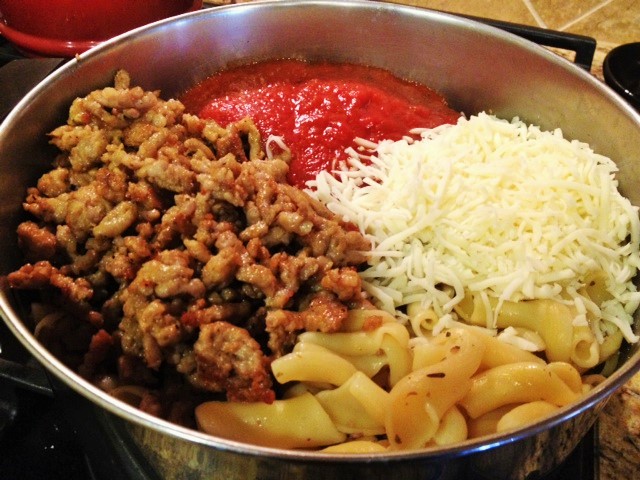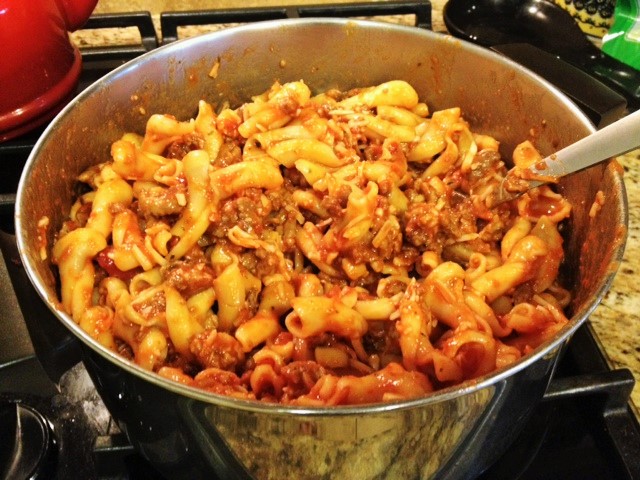 6. Pour the pasta mixture into a casserole dish (or two, depending on the size of the dish). Top with the remaining cheese. Cover with foil.
7. Bake for 30 minutes, covered. Remove the foil, and bake for additional 10 minutes, or until the top is bubbly and lightly browned
8. Serve with some crusty bread and take all of the credit for being the bearer of comfort, and yummy deliciousness!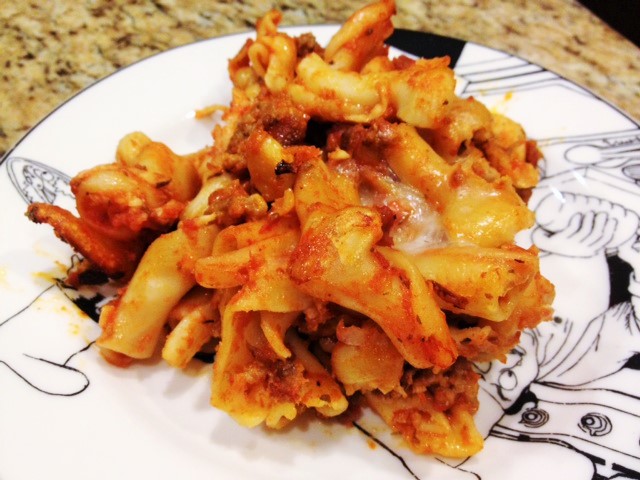 *Freezing note: any leftovers can be frozen in single-serving containers, and will keep in the freezer for up to 3 months. To reheat, remove frozen contents from freezer container and defrost on the lowest setting your microwave has. Once it's "loose" (read: you can actually stir it without 1/2 # clumps still in it), add a little extra pasta sauce and reheat like you would regular leftovers. It's a great take-and-reheat option for lots of purposes! 
*Tip for tomato sauces in plastic ware: spray the inside with cooking spray before putting the leftovers into the container. You'll be less likely to stain your plastic ware red!
Add to Favourites