Fall. Beautiful colors, perfect weather, and let's face it—great clothes. Every year, I count the days until the cool temperatures settle in, and I get to bust out my sweaters, boots, and scarves. Oh, and have I mentioned it's also football season? Even better in my book. Annually, I anticipate the day when I can throw on a light jacket and take a stroll through the piles of leaves on the curb. And I love the food that accompanies this weather even more. Time to get my braise on!
Alas, this part of Texas doesn't really "do" Fall as I know it (where are the changing colors? The crisp weather? The crunchy leaves?). Luckily, I can still bust out this tried and true foodie favorite. This is just what you need if you are lucky enough to be somewhere that has REAL Fall weather right now. Me? I make it because it's a favorite of anyone at the table, even if I don't get to jump into a pile of leaves afterwards.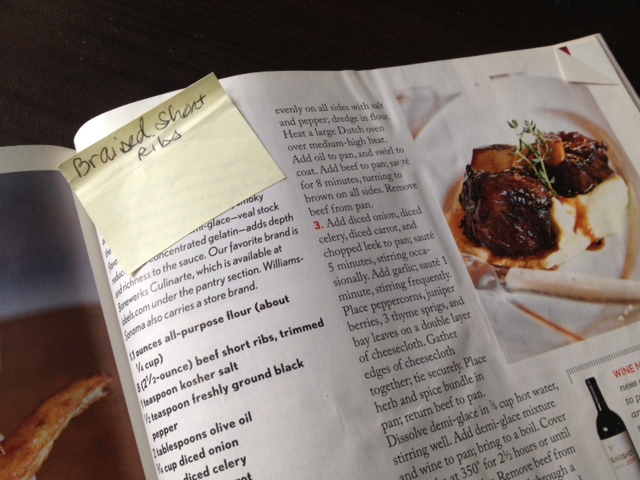 This gem is from a dog-eared and well-marked old edition of Cooking Light from January/Febuary of 2010. (Yes, I still keep some of my hard copy magazines around. It's my thing, let it go, OK?) Set aside a chilly afternoon and immerse yourself in the cathartic chopping, sautéing, braising, and EATING with this savory, juicy, warming dish. I feel all warm inside just thinking about it, don't you?
Braised Short Ribs with Parsnip & Potato Puree:
Serves 4-6
1.1 oz. all-purpose flour (about 1/4 c.)
8 (2 1/2-oz.) beef short ribs, trimmed
1 tsp. kosher salt
1/2 tsp. freshly ground black pepper
2 tbsp. olive oil
3/4 c. diced onion
1/3 c. diced celery
1/3 c. diced carrot
1/4 c. chopped leek (be sure to rinse the leeks very well, as they have a lot of sand in them)
1 garlic clove, minced
10 whole black peppercorns
5 juniper berries (if you can't find juniper berries, which I can never find, 2 sprigs of rosemary are an acceptable alternative)
3 fresh thyme sprigs
2 bay leaves
1/4 c. veal demi-glace (more on this below)
3/4 c. hot water
1/2 c. dry red wine
Thyme sprigs or fresh parsley
Preheat oven to 350°.
Lightly spoon flour into dry measuring cup; level with a knife. Place flour in a shallow dish. Sprinkle beef evenly on all sides with salt and pepper; dredge in flour.
Heat a large, oven-safe Dutch oven over medium-high heat. Add oil to pan, and swirl to coat. Add beef to pan; sauté for 8 minutes, turning to brown on all sides. Remove beef from pan and set aside.
4. Add diced onion, diced celery, diced carrot, and chopped leek to pan; sauté 5 minutes, stirring occasionally. Add garlic; sauté 1 minute, stirring frequently.
5. Place peppercorns, juniper berries (or rosemary, if using instead), thyme sprigs, and bay leaves on a double layer of cheesecloth. Gather edges of cheesecloth together; tie securely. Place herb and spice bundle in pan; return beef to pan. (Note: you can often find cheesecloth packets in specialty stores, which makes this even easier)
6. Dissolve demi-glace in 3/4 cup hot water, stirring well. Add demi-glace mixture and wine to pan; bring to a boil. (This can be switched for beef stock, but the demi-glace really does make a big difference in flavor and provides a beautiful glaze on the ribs)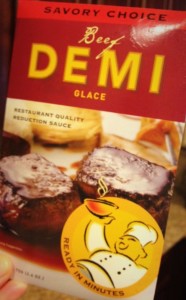 7. Cover and bake at 350° for 2 1/2 hours or until beef is fork tender. Remove beef from pan; strain cooking liquid through a fine-mesh sieve over a bowl. Discard solids. Serve cooking liquid with beef. Garnish with thyme sprigs or parsley, if desired.
Parsnip Puree:
Now this may not be something you would regularly make, or think is only for fancy restaurants. But I promise you, once you realize how delicious this alternative side dish is, well, you'll thank me for giving you a great recipe for your menu planning arsenal. Like many of my recipes, this is a take-off from another recipe, which I only really see as a suggestion, not hard and fast rules.  I mean, who wants to follow the rules, especially when it comes to food??  If you're a purist though, the original can be found here. If you decide you don't want only the flavor of the parsnip, you can go halfsies with yellow potatoes, which I do here. Just make sure to cook the parsnips longer as they take more time to become as tender as the potatoes.
Serves 8
4 c. (1-inch-thick) sliced parsnip, about 2 lbs.
4 c. (1-inch-thick) peeled, cubed large Yukon Gold potatoes, about 2 lbs.
2 garlic cloves, peeled and smashed
½ c. half-and-half
½ tsp. salt
¼ tsp. pepper
1-10 ½ oz. can low-salt chicken broth
Cook parsnip in boiling water in a large saucepan 20 minutes or until tender; drain. Repeat process with potatoes and smashed garlic.
Combine half-and-half, salt, pepper, and broth in bowl. Place parsnip, garlic, and potatoes, in a food processor; process until smooth, scraping sides of processor bowl occasionally.
With processor on, slowly add half-and-half mixture through food chute, processing until well-blended.
Serve underneath short ribs, or whatever protein you've made that calls for something scrumptious to catch delicious juices and gravy.
Add to Favourites