The universe it trying to tell me something.  We just got back from our phenomenal trip to San Francisco and wine country, and I'm trying to disengage from vacation mode and get back into daily life mode here.  Then I saw a travel show last night that was in San Francisco. Really??
First of all, NO FAIR!  Second of all, it was like a postcard coming at me, from myself, through the TV.  Granted, I don't look like Andrew Zimmern (thank goodness–no offense to him), but it showed some of the places we did explore, which made me want to go back immediately. But he also highlighted areas that we just didn't have the chance to visit this time around, and that made me want to run to the airport and hop the first plane outta here.
I consoled myself by remembering that the things we did see, do and EAT were amazing.  We checked certain tourist-y things off the list, like Chinatown, Fisherman's Wharf, riding a cable car, etc.  While cheesy in some ways, I feel like we would have been missing out if we hadn't at least made the effort.  Add to the whole experience that while the weather here in Texas was scorching (heat index of 112 degrees, anyone?  Ugh), it was a perfect and breezy 82 degrees while in San Francisco.  Ahhhh… Perfect for strolling the beautiful streets and just taking in the sights and sounds of the area.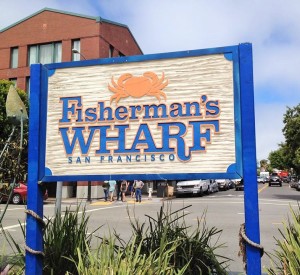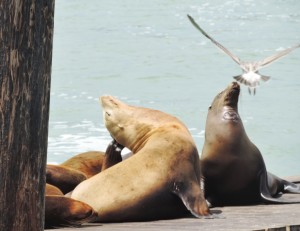 I did mention the the things that we ATE were amazing, right?  Lucky for you, I can prove it.  While the picture quality ain't what I'd like it to be, hopefully it will entice you to want to save your pennies for a trip to the Bay City, or maybe try and whip up your own versions of these delectable dishes.
Since I've already talked about (and admittedly swooned a bit) over our food offerings on day 1 of the trip, day two was no slouch either.  We decided to go a little more laid back and order up some comfort food after a day of trekking around the city.  We were lucky to find Hops & Hominy, a fantastic little gem of a place tucked into an alley in the Financial District.  Founded by two Southern boys who wanted to put their own twist on the food of their childhood, the promise of Southern comfort food did not disappoint.
We were seated and presented with a fantastic array of beers to choose from, which of course is the "Hops" in Hops & Hominy.  Too many to describe, but trust me–if you're a beer person, this is the place for you.  The food menu then begged you to order every darned thing on it.  But not wanting to be a glutton, or hurt myself by trying to become a professional eater, I restrained myself and went for the chicken and dumplings. Now let me say that this is not normally the type of thing I'd order in a restaurant.  I am the type of person to find the most adventurous item and go for it.  But after a long day of trekking the city streets, this dish just called out to me.  And I am so glad I answered by ordering it.
O. M. G.  This was the BEST chicken and dumplings I have ever had.  The broth was laced with herbs and citrus flavors, and the dumplings were the lightest, pillowiest (is that a word?) ones ever created.  They nearly melted when you ate them.  And the fresh vegetables were a bonus, adding the perfect mix of texture in each bite.  Un-freakin'-believeable.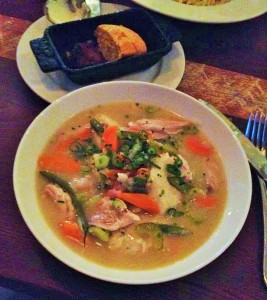 Sadly, I didn't eat the whole thing.  It's more than it looks, and I got full fast!  But man, the half that I did finish was so satisfying I can still feel the warmth of each spoonful in my belly.  Mmmmm…
My hubby went with a stunningly simple pork carbonara dish that used smoked pork in place of the regular pancetta or bacon.  It packed a flavor punch that most carbonaras do not.  While it sounds like a contradiction, this dish was delicate and powerful all at the same time.  And the fresh pasta was light, with a perfect al dente texture that allowed the cheese and sauce to cling to it.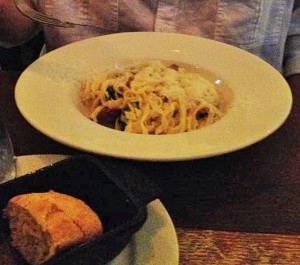 Yeah, he definitely finished his meal.
With this perfect dinner in our tummies, we slept well that night, my friends.  <yawn> I'm ready for nap right now just thinking of how comforting it was!
As if this touring and food experience was fabulous enough, we left the next morning for wine country.  And the results were spectacular.  Stay tuned for more jealousy-inspiring photos and reviews!
Add to Favourites