They're everywhere!  In your garden!  At the farmer's market!  In bowls, baskets, and other vessels all over your kitchen!  TOMATOES!  Normally when I think that I'm being stalked by produce, I feel the need to run.  Or wake up, because that would be a scary dream.
But in this case, I love it!  I love tomatoes, and in late-summer they seem to be coming out of our ears (now THAT would be scary–and painful!).  With so many varietals out there, it's easy to become wooed by the colors, sizes, textures, and flavors of this glorious fruit (remember, tomatoes are not veggies, but a fruit!). There are so many wonderful ways to use them, but sometimes simplicity is truly the sincerest form of flattery.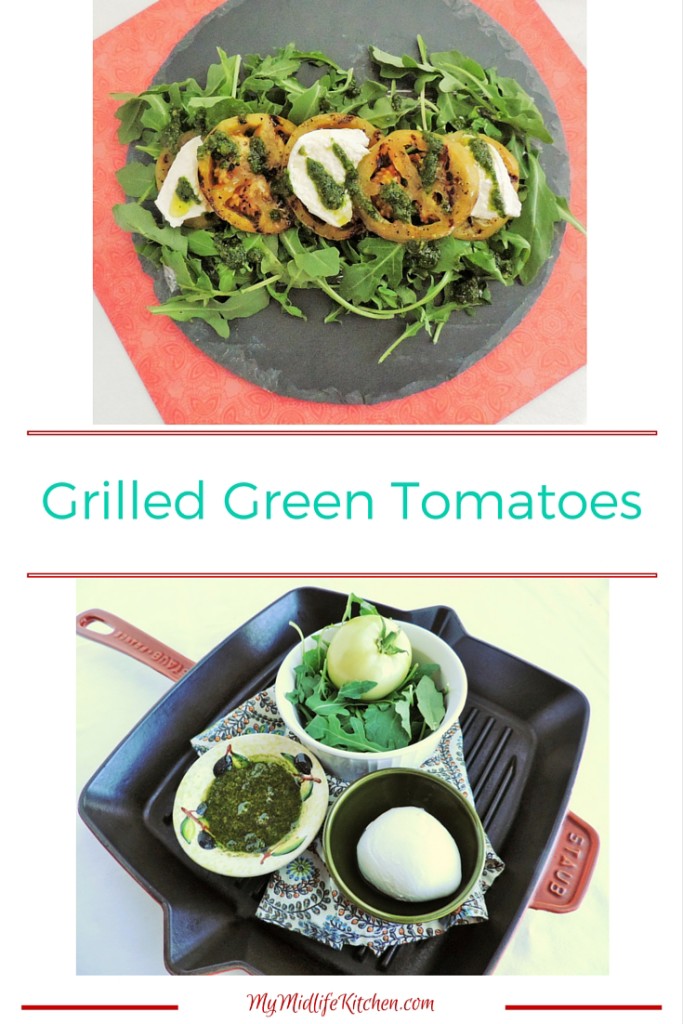 It will be clear to anyone who has read my blog for a little while that one of my favorite combos of all time is that of olive oil, salt, pepper, and mozzarella with a fresh tomato.  The perfect bite, and sometimes the perfect meal.  I've put them on toasty bread, roasted them to bring out their sweetness, served them with fish and other meats, and even turned them into pesto.  Oh, how I love those Solanum lycopersicum (the fancy-schmancy name for tomatoes).  In this particular case, I was inspired by a recent recipe I read in an online publication that showcased green tomatoes.  I thought "heck yeah! I need me some of that!"
So on a recent jaunt out to the local farmer's market, I found some oh-so-pretty green tomatoes from Music Family Farms.  These tomatoes were just beckoning me to take them home and have my way with them (those were some pretty flirty tomatoes, my friend).  Adding pops of flavor from a bed of peppery arugula and some of my spinach pesto (so handy to have all of that pesto in my freezer!), then completing it with creamy burrata was heaven.  HEAVEN, I tell you.
The great thing about this super simple recipe is that you can use any tomato you have on hand, you can make tons at a time to serve as a whole platter at a dinner party, or grill up just enough for yourself.  Being the nice person I am, I decided to make a small amount just for me so that I could test them before I sent them your way. You know, a little quality control to make sure I wasn't giving you a bad recipe idea.  Always thinking of you, that's who I am. I'm a giver.  And I'm giving you this fantastic recipe, so get out there and get grilling!
Heat the grill or grill pan over medium high heat.

Slice tomatoes and drizzle them with 1 tbsp. of the olive oil. Sprinkle with salt and pepper on both sides of each slice.

Grill over medium high heat for 4 minutes on the first side, and 3 minutes on the second side, or until they have grill marks but are still firm to the touch.

In the meantime, mix remaining 2 tsbp. olive oil with spinach pesto to create texture smooth enough for drizzling.

Place arugula on serving plate. Top with grilled tomatoes and sliced burrata. Drizzle with spinach pesto.
Do you have a bumper crop of green tomatoes here at the end of the summer growing season?  Don't want to wait for them to all ripen?  Well, don't wait!  You can eat them now, too!
Everyone has heard of Fried Green Tomatoes (not the movie, the southern fried staple), and those are super tasty.  But for a lighter option, grill those suckers!  The bitter nature of a fresh green tomato can be reigned in by grilling these beauties.  They turn a light, golden color when grilled, and since they retain their firm nature, they are a great contender for a main course or light lunch.  The texture stands up to any green you may pair it with, and is a perfect accompaniment to a rich and creamy cheese like burrata.
Oh, and feeling like a nice, crisp glass of wine might be in order?  I like the way you think.  The flavors in this particular dish go exceptionally well with a bright Vermentino.  The light nature of this wine won't overpower the delicate greens and cheese, but will bring out the herbaceous nature of the pesto.  Never heard of it?  Well, this is a grape to explore.  It pairs well with all sorts of vegetable dishes, and is also super as a warm afternoon sipper.
Grill 'em, roast 'em, stack 'em, and EAT 'em!  Any old way, you'll use up--and enjoy--these great green tomatoes!
Add to Favourites